Infographic Human Body: Incredible Facts, Visually Presented (Paperback)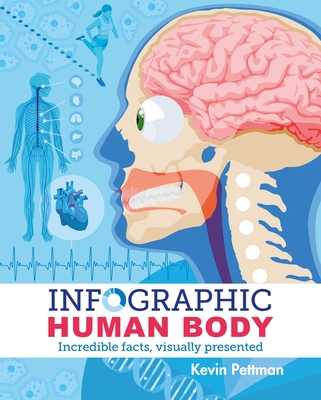 Description
---
Unleash the power of infographics - the super-smart artwork trend that communicates big ideas in a simple and striking way.
This innovative full-color book brings surprising facts and stats to life, with vibrant visuals that will transform your understanding of the human body. Feature boxes, annotated artworks, and clever charts efficiently summarize the key characteristics of each body part, system, or organ. Take a new look at the human body-from the simple elements that make it up, to the fascinating workings of the brain and senses An exciting, eye-opening new angle on popular topics for readers aged 8+.
ABOUT THE SERIES:
Arcturus Visual Guides
use engaging infographics to teach young readers a variety of facts and stats on educational topics, from the human body to the animal kingdom.
About the Author
---
Kevin Pettman is an editor and writer with 15 years experience of working with magazines and books across a variety of subjects including cars, sport, dinosaurs and science. Kevin has written several successful infographic guides.