Scratch Coding For Kids: Have Fun with Computer Coding, Creating Awesome Projects, Animations And Simulations. With this Guide You Will be Able (Paperback)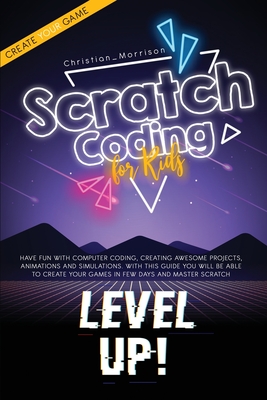 $19.99
Not On Our Shelves—Ships in 1-5 Days
Description
---
What about a computer programming language that is specifically created for kids to fast-track their career in coding and have fun at the same time?
Does your kid enjoy spending time in front of the computer?
Here is how you make Computer Programming FUN and ENGAGING
I think that you are already excited, so please keep reading...
There are so many parents out there who just don't know which career path their children will choose. And how could you know when your little one is just 8, 10 or 13 years old? You just have to wait and let them figure out on their own...
Actually, You Don't, because there are so many tools out there you can use to sparkle your kid's talents and needs early on And one of the best options I know of is computer programming - one of the highest in-demand skills every kid should learn, especially the ones who love to spend hours in front of PC or Mac screen. And trust me, it doesn't have to be boring
Inside this book, you'll discover a guide of arguably the best programming languages for children- Scratch Programming Language- a coding language specifically designed for kids who want to get their foot in the programming world
Here is just a fraction of what's inside:
- The easiest way to get started with Scratch - Scratch Programming for Beginners
- Master fundamentals - you can't skip this important chapter
- Everything kids need to know before starting their first successful project
- How to create a plan for your future programming project?
- Is Scratch just a game coding platform? Find out about other areas your kid could use it for
- What game should you choose - day and night game options
- More Advanced Concepts about coding with Scratch
- How to make Scratch even more fun and engaging for your kid every time he or she sits down in front of the computer?
- Much much more...
And the best part is:
Your kid can start learning this language with absolutely Zero Programming or Coding experience This book will take him by the hand and lead through every single step
So don't wait, get this book today and Begin This Fascinating Learning Journey