The Grill Bible: Flavorful and Easy Step-by-Step Recipes for Smoking and Grilling (Hardcover)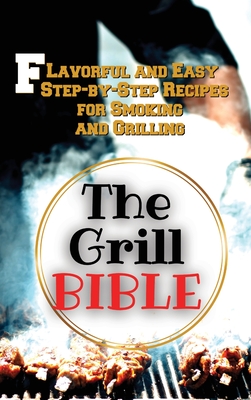 $39.90

Special Order—Subject to Availability
Description
---
Would You Like to Experiment With New Food and Try Something New to Always Amaze the Ones You Care About?
Your customers will never stop to use this awesome cookbook
The latest and greatest innovation introduced in bbq is undoubtedly the much talked about pellet barbecues that have aroused great interest among enthusiasts and nonprofessionals of the sector.
It has innovative features that ensure that the food is one hundred percent healthy and that it manages to give the food the same flavor obtained by cooking with wood.
One of its main features is that it can grill any food you intend to cook, such as meat, fish, and vegetables.
Furthermore, unlike other barbecue models, the pellet can even grill pizza or bruschetta, naturally more complicated foods to usually cook.
It does its job quickly and easily, making food tasty with great flavor.
In "The Grill Bible" You'll Find:
Grill Beef Recipes - is Your Mouth Watering Yet?
Pork Recipes - Did You Know That it is an Important Source of Key Nutrients Such as Protein, Vitamins B6 and B12?
Smoking Recipes - Surprise Yourself, Your Family and Your Friends With This Section
Fish & Seafood Recipes - Will be Your Favorite Section
Appetizers and Sides Recipes - To Start Your Meals in The Best Way
.. & Much More
Having the best food on BBQ is a privilege - you owe it to your family and friends, you owe it to yourself.
Make a Difference in your Life and Change Your Cooking Rituals For Good
Buy It Now and Let Your Customers Get Addicted to This Amazing Cookbook