Traeger grill Libro de recetas: El libro de cocina completo de la parrilla Traeger con más de 80 recetas que satisfacen la boca (Paperback)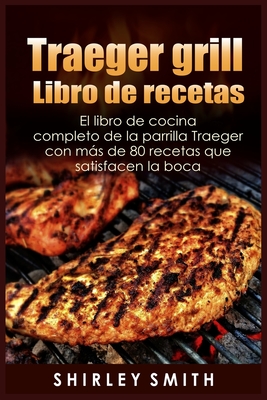 $23.97

Special Order—Subject to Availability
Description
---
Why choose Traeger Grill? Traeger Grills are unbiased grilling machines. There is no need to worry about playing with the heat or worry if your food is undercooked because Traeger Grills cook at a consistent temperature of only around 225 degrees. This allows you to cook your food evenly without fear of undercooked meat, which can be dangerous and potentially life-threatening. In addition, Traeger Grills also have an open flame on one side that cooks for even distribution of heat and grill marks that allow you to cook foods evenly on both sides. Your taste buds will thank you
This book covers:
- Breakfast Recipes
- Lunch Recipes
- Dinner Recipes
- Appetizer and Side Dish Recipes
And much more...
In using Traeger Grill, you don't have to worry about the charcoal, propane or gas. You simply load up the Traeger with everything you need and start cooking. You'll find that Traeger Grills offer a three-in-one feature that includes a grill, smoker and a kitchen oven all in one compact machine. The grill allows you to cook using your choice of charcoal, propane or gas while the smoker gives you an open flame so that you can use wood chips, lump hardwood charcoal or other smoking agents to cook with. Finally, for those who like their food piping hot, the kitchen oven lets you complete your meal by warming up breads and muffins without overheating your home.
If you're not sure what type of grill to choose from among Traeger Grills, Traeger Grills Davy Crockett Portable Grill and Traeger Grills Lil Tex Elite 22, Traeger offers a Deluxe Barbecue Kit that features all the components needed to experience the convenience of Traeger Grills-including a grill, smoker, side table and all necessary accessories.
Buy it NOW and let your customers get addicted to this amazing book