Libro de cocina para principiantes para la parrilla traeger: Sea fácilmente un maestro en el uso de su parrilla Traeger. Un libro de cocina que (Hardcover)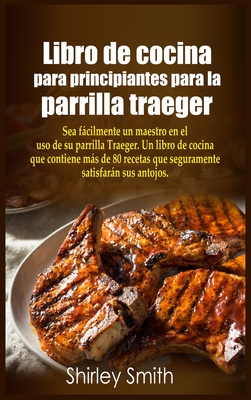 $33.97

Special Order—Subject to Availability
Description
---
Your Customers Never Stop to Use this Awesome Cookbook
Traeger Grill had been in the market for T-bone some time, and we decided that it was finally in our best interest to make the purchase.
If you're tired of chicken burnt to a crisp on your barbeque grill each summer or canyons of black charcoal left behind from your cookouts every fall, you need to buy this thing right now.
The benefits of using your Traeger Grill can be far greater than you may expect.
The Traeger Grill is a wood pellet grill that can be used to cook all sorts of foods, from meat to vegetables to breads. Using the grill is extremely easy. Pellets are placed in a bin at the bottom of the grill, and a mechanism in the bin automatically feeds them into a heating system inside of the grill. The heating system can heat up to 400 degrees Fahrenheit and holds its heat for hours after it has been turned off, so you don't have to worry about reheating your food if you have leftovers.
This book contains a guide on Trager Grill plus recipes.
Why do you need this book? Because of its large cooking area (700 square inches) and the dual-sided rack, you can cook a lot at once with this grill.
This book covers:
- Breakfast Recipes
- Lunch Recipes
- Dinner Recipes
- Appetizer and Side Dish Recipes
And much more...
The grill also comes with multiple features that make grilling easy. The Wi-Fi capability allows you to monitor your food remotely, so if you need to leave the house but remember that you haven't turned off the burners that are on low, you don't have to worry. You can turn them off remotely on your phone while still at work.
There is also a temperature gauge, so the food will be grilled perfectly every time without having to guess when it's hot enough to flip or turn over.
The Traeger doesn't just help you cook your food to perfection; it also can be used as a smoker. It has a smoke box so you can place wood chips or pellets inside and create smoke while the grill does its work. The smoke will then infuse your food with a smoky flavor that was previously only achievable on an expensive smoker. These are just some of the things that we will be discussing in this book.
The Traeger Grill might seem like an investment at first, but it's actually cheaper in the long run than buying BBQ charcoal every summer.
So, grab a copy and enjoy each meal.
Buy it NOW and let your customers get addicted to this amazing book