Traeger Grill Cookbook: A Complete Book Of Know How For Your Favorite Meals Prepared With Traeger Grill (Hardcover)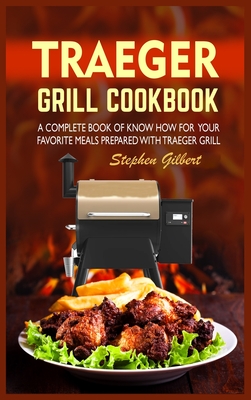 $29.97

Special Order—Subject to Availability
Description
---
Your Customers Never Stop to Use this Awesome Cookbook
Trager Grill is a kitchen appliance that's perfect for outdoor cooking. It cooks quickly and evenly, and it's durable Unlike other grills, the Trager Grill doesn't require charcoal or propane to fuel the fire. It is an electric grill that works with electricity just like your toaster or oven.
The Trager Grill works by using induction technology to produce heat that cooks your meat more efficiently than classic cooking methods. The temperature is controlled precisely at all times, so you can rest assured that your food will come out exactly as you want it every time The grill takes seconds to heat up and, with a fully charged battery, you can cook for hours without stopping.
The grills are made using high-quality stainless steel and have the look of fine cookware. This means that the Trager Grills are suitable to use indoors or out. They will quickly become a great addition to your kitchen or patio Unlike gas or charcoal grills, you never have to worry about refuelling the Trager Grill. The device has an innovative rechargeable battery which provides hours of cooking time per charge. When the battery runs out, it is recharged again by plugging it into any standard outlet.
This book covers:
- Breakfast Recipes
- Lunch Recipes
- Dinner Recipes
- Appetizer and Side Dish Recipes
And much more...
Additionally, you don't need to pay for gas or charcoal to enjoy the benefits of grilling The Trager Grill has a built-in thermostat that allows for precision cooking. Please select your desired temperature, and the grill will maintain it until your food is fully cooked. This means that you can focus on other things while your meat cooks instead of continually checking to make sure it's not burning
The electric grill boasts a sleek design so you can keep a watchful eye on the food and control temperatures no matter where you are in the vicinity.
What is the difference between Trager Grill with other grills in the market?
Trager Grill use pellets made up of compressed sawdust instead of traditional charcoal or propane. The pellets make it easier to start and maintain a consistent temperature than charcoal does, all without creating the aroma and lingering smoke from charcoal or propane grilling.
This recipe book of Trager Grill will provide you with over 80 of the tastiest recipes to enjoy at home.
What are you waiting for?
Buy it NOW and let your customers get addicted to this amazing book