Bread Machine Cookbook for Beginners: A Foolproof Guide with 500 Easy-to-Follow Recipes to Make Delicious Homemade Bread and Cook for Fun for Your Fam (Paperback)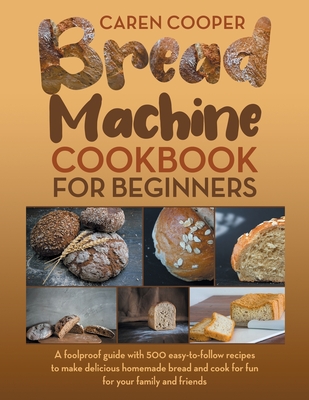 $29.90
Not On Our Shelves—Ships in 1-5 Days
Description
---
Would you like to prepare homemade bread for the first time but you don't know how and where to begin?
Are you an advanced baker, and are you looking for some new delicious recipes?
If yes, then keep reading
This Bread Machine Cookbook For Beginners is a manual you can trust, and that will guide you to make delicious bread like a pro If you are looking for instructions in baking bread with a bread machine, this book provides simple guidelines in every page. If you are an expert in baking bread, this book will add a simple twist to your cooking process.
The present guide gives a complete and clear overview of how to buy a good quality bread machine, choose the right ingredients for your bread, and straightforward yet easy to follow recipes on how to bake bread that is healthy, flavorful, and that will satisfy your appetite. All the ingredients in this book can be easily acquired and are available almost in every store.
You do not need to be a great cook to become a successful baker. With this book, you will be enlightened in the art of bread, making in no time at all.
And remember, if you feel that purchasing bread at a store is inexpensive, you may be mistaken. It turns out that in the long run, making bread at home will help you to save money, particularly if you have some dietary limitations.
This manual covers:
- How to bake using a bread machine
- Basic bread
- Italian bread
- Cheese bread
- Vegetable bread
- Sweet bread
...And much more
Ready to fill your house with that mouthwatering smell of homemade bread?
Click here to buy this book now and get started