Coding For Kids Scratch: A Step By Step Visual Guide To Create Your Own Easy and Fun Computer Games (Computer Coding For Kids) (Hardcover)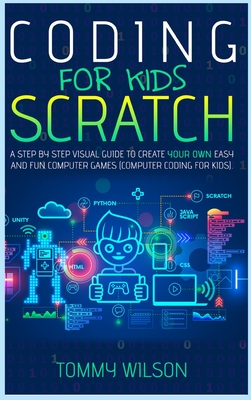 $29.95
Special Order—Subject to Availability
Description
---
Do your kids spend most of their time in front of electronic devices?
Would you rather your child focus on useful, interactive activities that are beneficial, rather than the same old boring, traditional learning methods?
Are you looking for a safe and secure path for your child?
If your children love playing video games, then why not create one?
If your answer is "YES" to any of these questions, then please continue....
In this digital world, programming isn't a highly sought after skill, but it teaches children several valuable after school life skills.
This book will help your children learn many vital problem solving strategies such as, project designing, and communication ideas while using game creation. Scratch Coding Games guides new coders by using visual samples, step by step, and easy to learn guidelines.
Scratch is a beginner friendly, and fun programming environment in which you join blocks of code for program designing. Its main use, is to provide an introduction to coding for children. Scratch is intended to make Computer Science feel comfortable and relatable for children. Scratch consists of cartoon sprites and colorful blocks for creating powerful scripts.
In this book you will learn about:
Basic concepts of programming
Scratch 3.0 and the interface
Installing and downloading Scratch
Building & running a script
Your first script
Many games and much more
This coding book designed for children, has every requirement needed to build Scratch 3.0 such as, amazing games, including projects like cat and mouse, fish in the sea, snake, and much more.
Computer coding helps to enhance a child's creativity, collaborative working, and systematic reasoning. As we advance in technology from this modern world, coding is a must for every child.
Learn coding concepts and skills, then your child can begin creating their own games right away Coding for Kids: Scratch is a complete guide that makes mastering this programming language fun and easy for children (ages 7+).
So, don't wait and get your copy today