Coding for Kids SCRATCH: The Ultimate Guide to Build Enjoyable Games, Develop Programming Skills and Master Scratch (Paperback)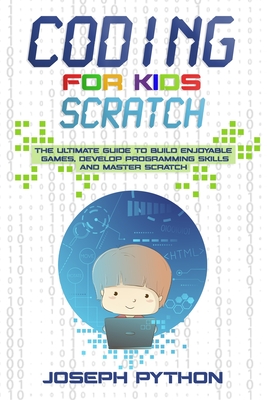 $20.95
Special Order—Subject to Availability
Description
---
Some kids have a knack for computers. You can see it in their eyes when they look at a screen. Fostering that curiosity is the correct thing a parent should do, because it can turn into a passion that will pay thousandfold in the future.
This book is the first step into it. Learning the Scratch language is the perfect start for their journey into coding, while at the same time having fun at it.
Scratch is a computer programming language specifically designed for kids who want to get their foot in the programming world, while at the same time having fun learning. They will first assimilate the basics, then all the aspects that will bring them from zero to create their first game.
Kids will be challenged and gratified to see the results of their learning efforts. In this book they will learn:
how to think like a computer
An overview on the most popular programming languages
The 6 key components of a good game
The 10 most entertaining types of games
To understand the simple logic behind coding
The fundamentals to know about Scratch
Installing Scratch
The Scratch Interface
Sprites, colored blocks, and scripts
The easy-to-follow instructions to program 5 gaming projects
Tips and tricks from the field
Learning coding teaches kids to be organized, to think causally and develop their problem solving abilities.
If they are to learn this skill, the younger they start, the better they'll get and this is the step-by-step guide they need to get started.
Click the "BUY NOW" button and let your kid explore coding in a fun and engaging way.