We're following all official guidelines to keep ourselves healthy on the job, and as a result, shipping may be delayed.
You will receive an email from our web orders team confirming that your order has been processed.
We thank you for your support and your patience at this challenging time.
Abandoned: America's Lost Youth and the Crisis of Disconnection (MP3 CD)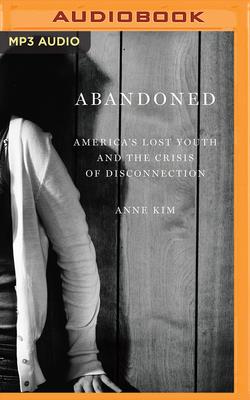 $24.99
Not On Our Shelves—Ships in 1-5 Days
Description
---
A deeply affecting expos of America's hidden crisis of disconnected youth, in the tradition of Matthew Desmond and Adrian Nicole LeBlanc
For the majority of young adults today, the transition to independence is a time of excitement and possibility. But nearly five million young people--or a stunning 11.7 percent of youth aged sixteen to twenty-four--experience entry into adulthood as abrupt abandonment, a time of disconnection from school, work, and family. For this growing population of Americans, which includes kids aging out of foster care and those entangled with the justice system, life screeches to a halt when adulthood arrives. Abandoned is the first-ever exploration of this tale of dead ends and broken dreams.
Journalist Anne Kim skillfully weaves heart-rending stories of young people navigating early adulthood alone, in communities where poverty is endemic and opportunities almost nonexistent. She then describes a growing awareness--including new research from the field of adolescent brain science--that "emerging adulthood" is just as crucial a developmental period as early childhood, and she profiles an array of unheralded programs that provide young people with the supports they need to achieve self-sufficiency.
A major work of deeply reported narrative nonfiction, Abandoned joins the small shelf of books that change the way we see our society and point to a different path forward.