Money Grows on Trees: "How to reshape your thoughts, beliefs and ideals about money and become truly wealthy." (Paperback)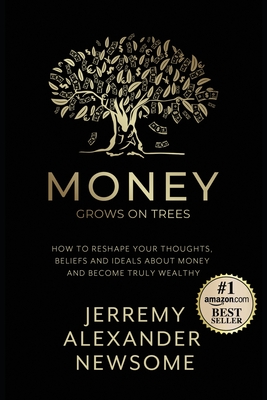 $8.99
Not On Our Shelves—Ships in 1-5 Days
Description
---
Money Grows On Trees Will Catapult You Past Your Fears, Hurdles, Mental Stumbling Blocks And Subconscious Beliefs That Have Kept Financial Success Beyond Your Reach
"
It is all in the mind
"...
We hear this more often than we can count
but
when someone uses this line when giving advice on financial matters
,
it can feel like an insult.
How dare someone even argue that financial troubles are a thing of the mind when you can feel and experience them in literally every aspect of your life...?
The house rent, mortgage payments, credit card payments, payday loans, income that barely gets you through the month, family expenses, transport costs, monthly shopping etc. anyone arguing that not meeting your financial goals is in the mind must do some explaining...
And
that's where Money Grows On Trees
comes in to h
elp you to understand that indeed
,
your financial woes have everything to do with your mind
Drawing on his own mental, financial and emotional transformation-over just a few years-from a man who had .01 to his name to a man who travels the world in style, Jerremy Alexander Newsome becomes your much needed cerebral pyromaniac to light up your brain
He combines funny tangents and unique metaphors with bite-size, aha concepts that unlock your potential to achieve actual results along with massive mental breakthroughs
Money Grows On Trees
Will Help You To:
Discover what 'false beliefs' are holding you back from making money
Unlock which doubts, fears, and excuses are scaring you from taking the money plunge

Learn how to form a better relationship with money
Determine which lucrative paths to walk down
Tap into your natural ability to become wealthy
Shape your reality, by 'unlearning' popular and damning phrases
Become as wealthy as you want to be
And attain much more
"This book truly helped unlock massive concepts that shape the past, present and future of how I think. Learning how to mentally find financial abundance begins with your mindset and Jerremy Newsome gets serious (in the funniest ways possible) about helping you identify your particular limiting beliefs surrounding money." - Chris Remboldt
Don't let your
past your fears, hurdles, mental stumbling blocks and subconscious beliefs
to
continue mark timing
when
you can break free from them and propel yourself to financial success
that's beyond your wildest imaginations
Are you ready for a change?
Click
Buy Now With 1-Click
or
Buy Now
at the top of this page to get started