We're following all official guidelines to keep ourselves healthy on the job, and as a result, shipping may be delayed.
You will receive an email from our web orders team confirming that your order has been processed.
We thank you for your support and your patience at this challenging time.
Feminist City: Claiming Space in a Man-Made World  (Hardcover)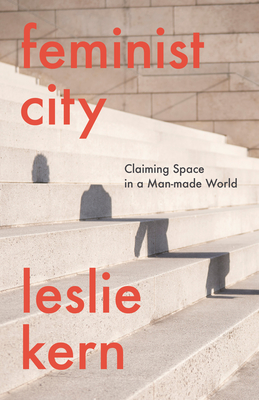 Description
---
Feminist City is an ongoing experiment in living differently, living better, and living more justly in an urban world.

We live in the city of men. Our public spaces are not designed for female bodies. There is little consideration for women as mothers, workers or carers. The urban streets often are a place of threats rather than community. Gentrification has made the everyday lives of women even more difficult. What would a metropolis for working women look like? A city of friendships beyond Sex and the City. A transit system that accommodates mothers with strollers on the school run. A public space with enough toilets. A place where women can walk without harassment.

In Feminist City, through history, personal experience and popular culture Leslie Kern exposes what is hidden in plain sight: the social inequalities built into our cities, homes, and neighborhoods. Kern offers an alternative vision of the feminist city. Taking on fear, motherhood, friendship, activism, and the joys and perils of being alone, Kern maps the city from new vantage points, laying out an intersectional feminist approach to urban histories and proposes that the city is perhaps also our best hope for shaping a new urban future. It is time to dismantle what we take for granted about cities and to ask how we can build more just, sustainable, and women-friendly cities together.
About the Author
---
Leslie Kern is an associate professor of geography and environment and director of women's and gender studies at Mount Allison University. She is the author of Sex and the Revitalized City: Gender, Condominium Development, and Urban Citizenship.
Praise For…
---
"Cities aren't built to accommodate female bodies, female needs, female desires. In this rich, engaging book the feminist geographer Leslie Kern envisions how we might transform the "city of men" into a city for everyone. Let's all move there immediately."
—Lauren Elkin, author of Flaneuse

"[An] insightful scholarly work … This provocative analysis will resonate with theoretically minded feminists."
—Publishers Weekly

"Visionary, intelligent, and humane, this book offers intersectional insights into the gendered nature of the modern city to promote "living more justly in an urban world" … A timely, thought-provoking study."
—Kirkus Reviews

"This book totally opened my eyes! Feminist City is an incredibly incisive look at cities and urban design through the lens of gender, while also inspecting how acts of claiming urban space affect other marginalized groups. Combining academic and lived experience, Leslie Kern's intersectional approach clearly lays out just how cities are failing and what it might mean to imagine a more just urban life. Feminist City made me see my own experiences in a whole new light, and Kern makes the field of feminist geography completely accessible and exciting to the average city slicker. Anyone who considers themselves a feminist or activist should read this book!"
—Julia DeVarti, Literati Bookstore

"Approachable and based in thorough research … In eye-opening detail, [Feminist City] argues that the privatization of security and heightened police presences endanger women of certain demographic groups, while marketers, who present condo living as the safest way to exist in a city, ironically turn women into accomplices in gentrification, forcing low-income women out of safer areas and into environments that are more dangerous."
—Tanisha Rule, Foreword Reviews

"An optimistic, pragmatic book, which points to already extant solutions and looks forward to a more just, joyous urban future."
—Stephanie Sy-Quia, Tribune

"In Feminist City, Kern imagines a world where public spaces are designed with women and equity in mind."
—Bitch