America & Islam: Soundbites, Suicide Bombs and the Road to Donald Trump (Hardcover)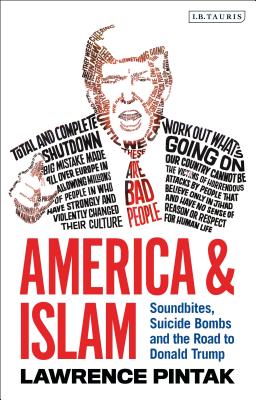 Description
---
Donald Trump's first term as the 45th President of the United States of America has shocked the world. His attitudes towards Islam became a key point of contention on the campaign trail, and in power Trump has continued his war of divisive words and deeds. Here, acclaimed journalist Lawrence Pintak scrutinizes America's relationship with Islam since its foundation. Casting Donald Trump as a symptom of decades of misunderstanding and demonization of the Islamic world, as well as a cause of future tensions, Pintak shows how and why America's relationship with the world's largest religion has been so fractious, damaging and self-defeating.
Featuring unique interviews with victims and perpetrators of Trump's policies, as well as analysis of the media's role in inflaming debate, America & Islam seeks to provide a complete guide to the twin challenges of terrorism and the polarizing rhetoric that fuels it, and sketches out a future based on co-operation and the reassertion of democratic values.
About the Author
---
Lawrence Pintak is an award-winning journalist and scholar who has written about America's complex relationship with Islam since 1980. He was the founding dean of The Edward R. Murrow College of Communication at Washington State University (2009-2016) and was named a Fellow of the Society of Professional Journalists in 2017 for "outstanding service to the profession of journalism" around the world.A former CBS News Middle East correspondent with a PhD in Islamic Studies, Pintak been called the foremost chronicler of the interaction between Arab and Western media. He has won two Overseas Press Club awards and was twice nominated for international Emmys. Prior to WSU, Pintak served as director of the Kamal Adham Center for Journalism Training and Research at The American University in Cairo.He is the host of The Murrow Interview, a series of broadcast conversations with leading figures in international affairs and global journalism and was founding publisher of the online journal Arab Media & Society. His work appears in The New York Times, ForeignPolicy.com, CNN.com, the International Herald Tribune, The Seattle Times and a variety of other publications and he is frequently interviewed by NPR, CNN, Al Jazeera English, BBC and news organizations around the world.His books include Islam for Journalists (co-editor, 2014); The New Arab Journalist (2011); Reflections in a Bloodshot Lens: America, Islam & the War of Ideas (2006); Seeds of Hate: How America's Flawed Middle East Policy Ignited the Jihad (2003); and Beirut Outtakes (1988). He holds a PhD in Islamic Studies from the University of Wales.