Winter's Coming: A Story of Seasonal Change (Hardcover)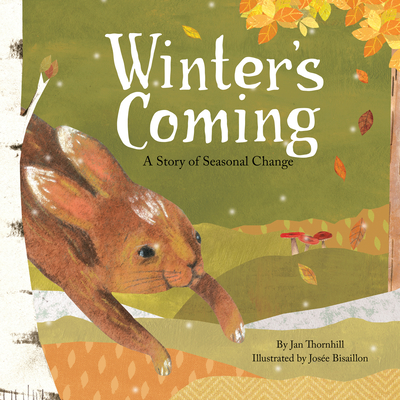 $16.95
Special Order—Subject to Availability
Description
---
Lily, a young snowshoe hare, is surprised to notice the leaves changing color in her forest home. She hears from a passing flock of birds that "Winter's coming." Lily doesn't know who or what winter is, but it must be frightening. Why else would the birds be escaping south? And it must have an enormous appetite. Why else would the squirrel be hiding his food? And why would the caterpillar curl up and freeze as solid as an acorn? As Lily learns the ways in which her forest friends prepare for winter's arrival, she becomes more and more worried about what she should be doing. Finally, the brown bear points out that Lily has been preparing without even knowing it: her fur is thickening and turning white to help her camouflage in the changing weather. This fascinating story introduces the ways in which different animals adapt to survive winter and is complemented by illustrations in a mix of collage, drawing, and digital montage. Grade: 3
Fountas & Pinnel: N
Lexile Measure: AD 780L
Common Core State Standards:
CCSS.ELA-Literacy.L.3.3,3a,4,4a,5,5a,5b,5c,6
CCSS.ELA-Literacy.RF.3.3,4,4a,4c
CCSS.ELA-Literacy.RL.3.1,2,3,4,5,6,7,10
CCSS.ELA-Literacy.W.3.2,2a,2b,2d,4,7,8,10.
About the Author
---
Jan Thornhill is an award-winning writer and illustrator who has always had a strong interest in nature and the environment. Several of her books have been translated into different languages and published in countries around the world. Her books include the Governor General's Award-nominated The Wildlife ABC and The Wildlife 123 and the NAPPA Gold Award-winning I Found a Dead Bird. She lives in Havelock, Ontario. Illustrator Josee Bisaillon's illustrations are a mix of collage, drawing, and digital montage. Twice nominated for a Governor General's Award in children's illustration, she lives in Montreal.