Slippery When Metastasized (Paperback)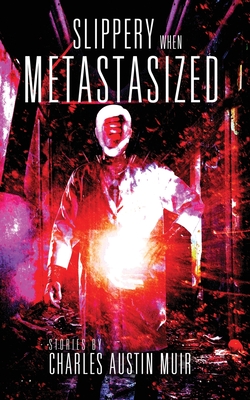 $12.95
Not On Our Shelves—Ships in 1-5 Days
(This book cannot be returned.)
Description
---
Telepathic hospice workers... a Danish prince haunted by his immortality... a naked mercenary with the ultimate bioweapon... a ghostly gunslinger in a showdown with the Devil's bandits... a writer losing his dog and his mind... a wormhole with a cure to every human ill...
Slippery When Metastasized.
Sixteen pieces of prose and poetry inspired by the author's wife and her struggles to live with, and overcome, cancer. The genres of horror, science fiction, spaghetti western, bizarro, all get a turn in Slippery When Metastasized, an absurdist, darkly comic, surreal, metafictional, pop culture-laced tour into fear, grief, helplessness, and determination to navigate the insanity of life.
Slippery When Metastasized: A literary medical report on the fears, sorrows, joys, wonders, assaults, and tender moments of life after a single phone call shatters even the smallest illusions.
With influences ranging from Franz Kafka to Ray Bradbury to '80s action movies, Charles Austin Muir "is a genre to himself... sit back and enjoy the insanity. You'll laugh your way into the abyss and maybe cry a little, too."
--Brendan Vidito, Wonderland Award-winning author of Nightmares in Ecstasy