We're following all official guidelines to keep ourselves healthy on the job, and as a result, shipping may be delayed.
You will receive an email from our web orders team confirming that your order has been processed.
We thank you for your support and your patience at this challenging time.
The American Way of Empire: How America Won a World--But Lost Her Way (Paperback)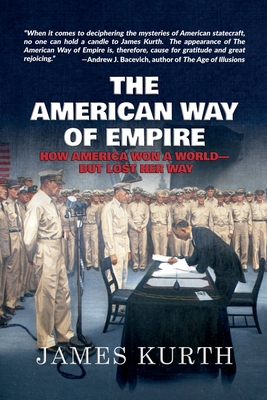 $20.00
Not On Our Shelves—Ships in 1-5 Days
Description
---
In this ground-breaking analysis, author James Kurth (a Harvard student of Samuel Huntington) explains that the roots of America's current foreign policy crisis lie in contradictions of an American empire which attempted to transform traditional American national interests promoted by Presidents like Teddy Roosevelt and FDR into a new American-led global order that has unsuccessfully attempted to promote supposedly universal, rather than uniquely American, ideals. Kurth dates the creation of the American empire to the morning of September 2, 1945, when General Douglas MacArthur accepted the surrender of the Empire of Japan aboard the USS Missouri in Tokyo Bay; and its end to the failure of American wars in Afghanistan and Iraq.