We're following all official guidelines to keep ourselves healthy on the job, and as a result, shipping may be delayed.
You will receive an email from our web orders team confirming that your order has been processed.
We thank you for your support and your patience at this challenging time.
The American Way of Empire: How America Won a World but Lost Her Way (Hardcover)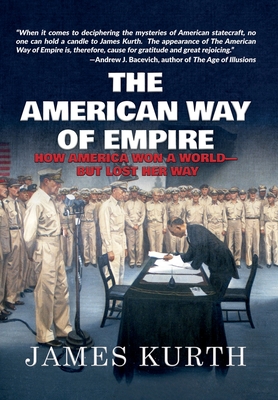 Description
---
Since the September 11th, 2001 attacks on the World Trade Center and Pentagon, traditional American foreign policy has proven inadequate to 21st Century challenges of Islamic terrorism and globalization.
In this ground-breaking analysis, author James Kurth explains that the roots of America's current foreign policy crisis lie in contradictions of an American empire which attempted to transform traditional American national interests promoted by Presidents like Teddy Roosevelt and FDR into a new American-led global order that has unsucessfully attempted to promote supposedly universal, rather than uniquely American, ideals.
Kurth dates the creation of the American empire to the morning of September 2nd, 1945, when General Douglas MacArthur, at the head of the representatives of the Allied Forces, received the surrender of the representatives of the Empire of Japan.
And so, the book begins, on its front cover, with a depiction of the moment when the American Empire, and the "American Century," were born...