Richard and the Boyz: The Puberty Experience (Hardcover)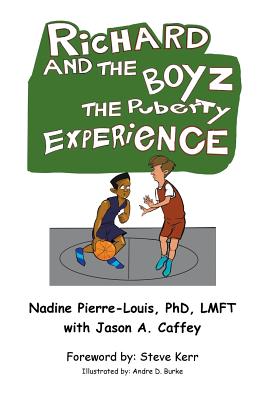 $24.99

Not On Our Shelves—Ships in 1-5 Days
Description
---
TIME FOR "THE TALK" WITH YOUR SON?
IT DOESN'T HAVE TO BE AWKWARD
Use this entertaining and engaging story to get all the important points across. Allow Preeb, age 9, and Pube, age 12, to make it much easier for you. Follow along with their experiences while they ask the difficult questions. The questions boys don't want to ask but want answered. Young men will relate to the contemporary jargon and realistic questions and answers in this book. Having the "talk" about puberty can be quite awkward and stressful. When it comes to boys, many fathers can't draw from experience on how to have this conversation because they never got "the talk" themselves. More and more mothers are in a position where they need to give "the talk" but sons are too uncomfortable hearing it from Mom. Richard and the Boyz: Puberty Experience does much of the work for you. As you discuss Preeb and Pube's experiences, you and your child can talk freely without having to make it uncomfortably personal.
Richard and the Boyz: The Puberty Experience incorporates humor and is written from the perspective of boys talking to each other. Dr. David Richard serves as the arbiter and provider of correct information. He debunks the myths and separates fact from fiction. While using slang to draw young boys in, he easily includes anatomically correct terms. This book tackles all the common questions facing young men about puberty and their changing bodies.