Anti-Inflammatory Diet Cookbook: Featuring 700 New, Delicious, Quick & Easy, Low Carb Anti-Inflammation Diet Recipes with Low Calorie & Low Carb for E (Paperback)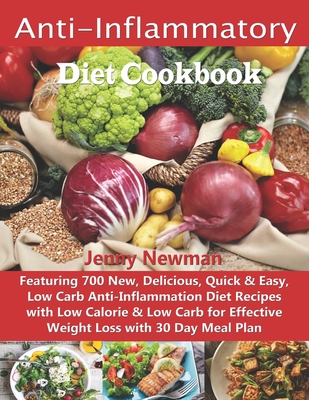 $8.98
Not On Our Shelves—Ships in 1-5 Days
(This book cannot be returned.)
Description
---
Enjoy 700 New, Delicious, Quick & Easy, Low Carb Anti-Inflammation Diet Recipes with Low Calorie & Low Carb for Effective Weight Loss with 30 Day Meal Plan
Inflammation is a normal response by the body to start the healing process. Inflammation can be defined conventionally as a local response to cellular damage that is marked by leukocytic infiltration, capillary dilatation, redness, heat, and pain and that serves as a mechanism beginning the removal of noxious agents and of injured tissue. It can occur for many reasons and can be classified into: Chronic and Acute.
Anti-Inflammatory Diet Cookbook Features 700 New, Delicious, Quick and Easy, Low Carb Anti-Inflammation Diet Recipes with Low Calorie and Low Carb for Effective Weight Loss with a 30 Day Meal Plan to help cleanse you permanently with your oven, slow cooker, instant pot, skillet and air fryer. Some of the meals have alkaline contents to help heal your inflammation.
Below is the summary of this
Anti-Inflammatory Diet Cookbook:
All About Inflammation: The Full Process of Inflammation, Acute vs. Chronic Inflammation, Over Weight and Inflammation, How Inflammation is Diagnosed and Treated Traditionally, Symptoms of Inflammation
Anti-Inflammatory Diet Tips: Foods to Avoid in Inflammatory Diet Plan, Recommended Foods in Anti-Inflammatory Diet Plan
Low Carb 30 Day Anti-Inflammatory Diet Plan
Anti-Inflammation Breakfast Recipes
Anti-Inflammation Lunch Recipes
Anti-Inflammation Main Meal Recipes
Anti-Inflammation Salad and Vegetable Recipes
Anti-Inflammation Seafood Recipes
Anti-Inflammation Chicken and Poultry Recipes
Anti-Inflammation Beef, Pork and Lamb Recipes
Anti-Inflammation Vegan and Vegetarian Recipes
Anti-Inflammation Smoothies and Drinks Recipes
Anti-Inflammation Side Dish Recipes
Anti-Inflammation Snacks and Desserts Recipes
Other Low Carb Anti Inflammatory Diet Recipes
Just take the right decision now
and enjoy these 700 new, healthy anti inflammatory diet recipes with your family.