The Fever in Urbicande (Obscure Cities) (Paperback)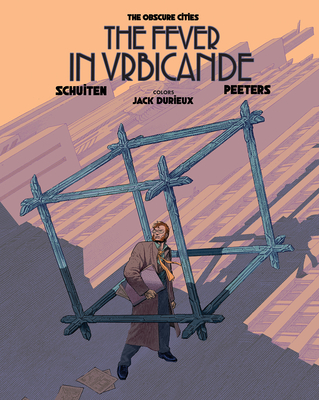 $19.99

Not Yet Published—Pre-Order Now
Description
---
Visit a land full of mystery, ancient alchemy, and modern technologies in this award winning graphic novel series, now in a new edition with all-new colors and an updated translation!

The second book in the original The Obscure Cities series, The Fever in Urbicande was first published in English by NBM in 1990 in black and white. This updated edition features an all-new translation by ALA award-winning translator Ivanka Hahnenberger and Stephen D. Smith, and beautiful new coloring supervised by Schuiten and Peeters.

Eugen Robick, Urbatect of Urbicande has been working on restructuring the city for the Commission of High Instances. With the South side completed, he wants to move on to the Northern part, in order to make the city symmetrical again. But the Rapporter General is not listening.

While thinking about how to convince the Commission of High Instances to continue construction, Robick receives a cube found during ground work for the Von Hardenberg company. The cube starts to grow and turns into a network. Soon the network is too big for his house and begins to disrupt the entire structure of Urbicande. When Robick's friend Thomas becomes the new Rapporter General, he asks for his help, but Robick has his own ideas about what to do and refuses.
About the Author
---
Benoît Peeters was born in Paris on August 28, 1956. After publishing two novels early in his career, he experimented with diverse genres: essay, biography, illustrated story, photo novel, film, television, radio theater and of course comics. An Hergé specialist, he has written three books to date on the subject: The World of Hergé, Hergé, Son of Tintin, and Read Tintin. He is also the author of several books on comics, storyboards and biographical studies on Hitchcock, Nadar, Jacques Derrida and Paul Valéry

François Schuiten was born in Brussels on April 26, 1956, into a family of architects. Since 1980, he has worked with Benoît Peeters on The Obscure Cities series. His graphic novels have been translated into a dozen languages and have received numerous international awards. He has also created many illustrations, posters and postage stamps across Europe. In 2002, he received the prestigious lifetime achievement award from the Angouleme festival. He published his first solo effort, The Beauty, in 2012, and designed a train museum, Train World, which opened in Brussels in 2015. His 2014 exhibition and accompanying book, Revoir Paris, has met with international praise.