Penguins (Hardcover)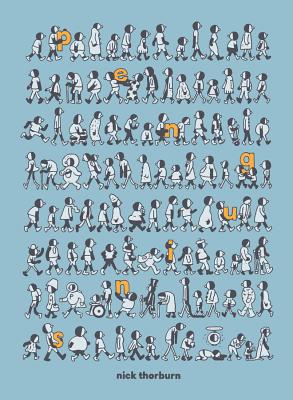 $24.99

Special Order—Subject to Availability
Description
---
A collection of interconnected short comic strips by The Unicorns singer that, without words or Homo sapiens, showcases the human condition.
The debut graphic novel by musician Nick Thorburn (Islands, the Unicorns, Mister Heavenly, Serial),
Penguins
is a series of interconnected short comic strips that, sans words or human characters, showcases the breadth of emotion we as humans experience.
About the Author
---
Nick Thorburn is a Canadian musician, cartoonist, and actor best known for composing the soundtrack for the podcast Serial and for fronting numerous bands, such as The Unicorns, Islands, Reefer, and Human Highway. He lives in Los Angeles.
Praise For…
---
Drawing on the implicit irony of a flightless bird, former Unicorns frontman Thorburn's graphic novel debut is a curious blend of grotesquerie and fable.
— Publishers Weekly

Penguins is without question a challenging, ambitious, and genuinely heartfelt work. Thorburn uses the most unlikely of anthropomorphic stand-ins to illustrate the rich fullness of the human condition.

— Four Color Apocalypse

Thorburn has deftly gift wrapped his soul in the strips which collectively constitute Penguins. He has proven himself to be a pioneer and innovator in the evolution of the graphic novel.

— XN Noize

Thorburn makes sharp social commentary through a series of dark humor vignettes that revolve around macabre body horror, dalliances into the absurd, and the sociopolitical intricacies of human (or penguin!) existence. Penguins is sure to prove itself as a major hit in the comics medium.

— The Believer

Thorburn has a masterpiece on his hands with Penguins. What is, on the surface, a collection of strips where terrible things happen to dimwitted penguins is at its core a way to cope with a harshly indifferent world.

— Broken Frontier

Nick Thorburn's Penguins is crude, clever, and often amusing.

— PopMatters

Young adults seeking a visual representation of nihilist despair will thrill to find Penguins. They will pass the book from backpack to backpack, peering into its hopeless sequences and deriving crucial philosophical insights that will sustain them through their teenage years.

— New York Journal of Books