Dementia 21 Vol.1 (Paperback)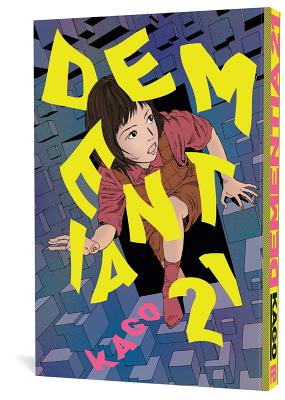 Description
---
This is a disturbingly funny manga about plucky home aide tasked with caring for a series of bizarre patients, from one of Japan's most twisted cartoonists.
Yukie Sakai is a sprightly young home health aide eager to help her elderly clients. But what seems like a straightforward job quickly turns into a series of increasingly surreal and bizarre adventures that put Yukie's wits to the test! Cartoonist Kago, who is well known for combining a more traditional manga style with hyper realistic illustration technique, an experimental visual storytelling approach, and outrageously sexual and scatological subject matter, has single-handedly created his own genre: "fashionable paranoia."
About the Author
---
Shintaro Kago (b. 1969), is a Japanese ero-guro manga artist. He made his debut in 1988 in the magazine Comic Box.
Praise For…
---
Showing influences from Salvador Dali to Katsuhiro Otomo, the combination of Kago's precise, expressive, and kinetic line work with his wacky storytelling is at turns engrossing and repulsive. Mature fans of unconventional manga will appreciate the surreal spiral of body horror, tragicomedy, and dark humor.
— Publishers Weekly

Kago deftly combines realism and absurdity for a manga title that's equal parts joyful, evocative, and jarring.
— Adventures in Poor Taste

Part social commentary and satire, part menacing story colored by greed and selfishness, part narrative on thankless work, Dementia 21 is a transgressive form of graphic medicine.

— Intima

Dementia 21 is a great way to introduce the world to Kago's brilliant work. If you're looking for amazing manga, look no further.

— Kitty Sneezes

Charming, hilarious, and thought-provoking. Dementia 21 proves that Kago is a cutting satirist with a deft touch for black comedy.

— Broken Frontier

Dementia 21 revels in bodily irreverence and pushes corporeality to the limits of the imagination. It is a fine introduction to the strange world of Kago.

— Run Spot Run

As much as I admire Kago's oddness as a writer, his artistic pen is even sharper. [His characters] retain a realistic edge that intensifies their horror-tinged universe.
— PopMatters