We're following all official guidelines to keep ourselves healthy on the job, and as a result, shipping may be delayed.
You will receive an email from our web orders team confirming that your order has been processed.
We thank you for your support and your patience at this challenging time.
Trump's ABC (Paperback)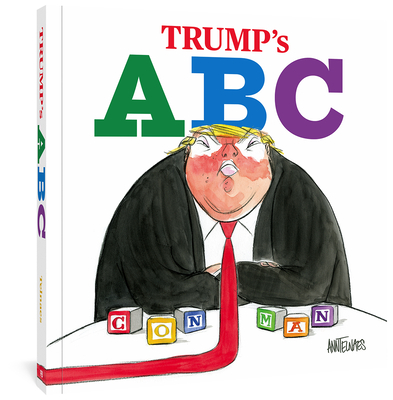 Description
---
An all-new collection of the Pulitzer Prize-winner's scathing cartoons about Trump, in children's board book form (for adults).
One Clinton, two Bushes, and an Obama were mere warm-ups for a President who is truly worthy of Ann Telnaes' excoriating satirical skills. The election of Donald Trump has inspired the Pulitzer Prize-winning cartoonist to chronicle the high points (or low points, if there's a difference) of his first six months in office. Written in a sing-songy rhyme and drawn in her beguilingly impeccable ink line, each page is a miniature critique and expose of Trump and his janissaries, poltroons, and dissemblers, illustrating his public policies, his personal defects, his ethical dysfunction, and the consequences of his Presidency on the lives of Americans ? in a format that is cleverly designed to reflect the commander-in-chief 's attention span and mental level.
Praise For…
---
For Trump's ABC, Telnaes draws with satiric acid. Her poison-pen distaste for Trump drips from every colorful page.


Ann Telnaes keeps coming up with funny, relevant and clever cartoons on a daily basis — and here you have a chance to see her amazing wit all in one place. Will you cry or laugh? No telling…
— Martina Navratilova

Her outrage is undiluted and illuminates all her
drawings with power, cogency, and

moral force.
— Ben Sargent

Proceed with caution… the intelligence, wit and insight of her
work, delivered through stunning

art could very well bring about enlightenment along with great
entertainment. You've been

warned.
— Wiley Miller (Non Sequitur)