Beast in View (Paperback)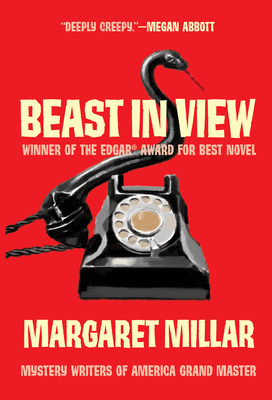 Description
---
Hailed as one of the greatest psychological mysteries ever written and winner of the 1956 Mystery Writers of America Edgar Award for Best Novel, Beast in View remains as freshly sinister today as the day it was first published.  

Thirty-year-old Helen Clarvoe is scared and all alone. The heiress of a small fortune, she is resented by her mother and, to a lesser degree, her brother. The only person who seemingly cares for her is the family's attorney, Paul Blackshear. A shut-in, Helen maintains her residence in an upscale hotel downtown. 

But passive-aggressive resentment isn't the only thing hounding Helen Clarvoe. A string of bizarre and sometimes threatening prank phone calls has upended her spinster's routine. Increasingly threatened, she turns to a reluctant Mr. Blackshear to get to the bottom of these strange calls. Blackshear is doubtful of their seriousness but he quickly realizes that he is in the midst of something far more sinister than he thought possible. As he unravels the mystery of the calls the identity behind them slowly emerges, predatory and treacherous.
About the Author
---
Margaret Millar (1915-1994) was the author of 27 books and a masterful pioneer of psychological mysteries and thrillers. Born in Kitchener, Ontario, she spent most of her life in Santa Barbara, California, with her husband Ken Millar, who is better known by his nom de plume of Ross Macdonald. Her 1956 novel Beast in View won the Edgar Allan Poe Award for Best Novel. In 1965 Millar was the recipient of the Los Angeles Times Woman of the Year Award and in 1983 the Mystery Writers of America awarded her the Grand Master Award for Lifetime Achievement. Millar's cutting wit and superb plotting have left her an enduring legacy as one of the most important crime writers of both her own and subsequent generations.
Praise For…
---
PRAISE FOR BEAST IN VIEW

Winner of the 1956 Mystery Writers of America Edgar Award for Best Novel
BookRiot 100 Must-Read Novels of Noir

"Millar's work was long overshadowed by that of her husband, detective novelist Ross Macdonald. In fact, her best novels — like 1955's Beast in View — have a ferocious edge that make him look rather tame."
—John Powers, NPR's Fresh Air

"Millar's mastery of domestic-oriented suspense found full fruition in Beast in View, published in the same year (1955) as Highsmith's The Talented Mr. Ripley, which Millar's novel bested for the Edgar Award . . . The surprise-twist gear shift, rooted in the inevitable, is like all of Millar's twists—they shock, but they always, always play fair."
—Sarah Weinman, The New York Times

"Deeply creepy."
—Megan Abbott

"Stunningly original."
—Val McDermid

"Written with such complete realization of every character that the most bitter antagonist of mystery fiction may be forced to acknowledge it as a work of art. "
—Anthony Boucher for The New York Times

"A creepy bit of a thriller that will spin you right out of your world and into a mid-20th century time of silk stockings and pompadours, sexual secrecy, stalkers, and surprise endings." 
—Long Island Herald

PRAISE FOR MARGARET MILLAR

Mystery Writers of America Grand Master Winner of the Edgar Award for Best Novel
Los Angeles Times Woman of the Year

"One of the most original and vital voices in all of American crime fiction."
—Laura Lippman
 
"I long ago changed my writing name to Ross Macdonald for obvious reasons."
—Kenneth Millar (Ross Macdonald), in a letter to the Toronto Saturday Night newspaper

"One of the greatest this country has ever produced."
—The Globe and Mail

"[Millar] writes with care and devises clever plots, holding back plenty of surprises until she is ready to let the reader know... She exhibits a virtuoso talent for creating distinct identities for her characters, even if they  might have more than one identity." 
—The Buffalo News 

"A writer whose own work is every bit as psychologically bruising and critically acclaimed as that of her husband [Ross Macdonald], if not as well known. But [Syndicate Books] hopes to rectify that with Collected Millar."
—Kevin Burton Smith, Mystery Scene Magazine

"Razor-sharp."
—The Seattle Times