Story Power: Secrets to Creating, Crafting, and Telling Memorable Stories (Communication, Presentations, Relationships, How to Infl (Paperback)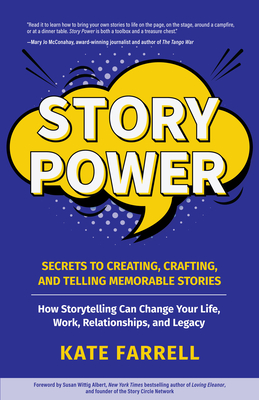 $18.95
Not On Our Shelves—Ships in 1-5 Days
Description
---
Reconnect Through Stories
"...learn how to bring your own stories to life on the page, on the stage, around a campfire, or a dinner table. Story Power is both a toolbox and a treasure chest." --Mary Jo McConahay, award-winning journalist

#1 New Release in Writing Researching & Publishing Guides

Stories are everywhere. The art of storytelling has been around as long as humans have. And in today's noisy, techy, automated world, storytelling is not only prevalent―it's vital. Whether you're interested in enlivening conversation, building your business brand, sharing family wisdom, or performing on stage, Story Power will show you how to make use of a good story.
Become an engaging storyteller. Storytelling is the most effective way to communicate and to affect change―if you know how to use it. Story Power provides techniques for creating and framing personal stories alongside effective tips for telling them in any setting. Plus, this book models stories with unique storytelling examples, exercises, and prompts, as well as storytelling techniques for delivery in a spontaneous, authentic style.
Learn from the experts. Story Power is an engaging, lively guide to the art of storytelling from author and librarian Kate Farrell, a seasoned storyteller and founder of the Word Weaving Storytelling Project. In Kate's book, more than twenty skillful contributors with a range of diverse voices share their secrets to creating, crafting, and telling memorable tales.
If you want to experience the power of storytelling in your life, Story Power is for you. In this book, you will discover:
How to share your own coming-of-age stories and family folklore
The importance of a personal branding story and storytelling marketing
Seven Steps to Storytelling, along with helpful tools, organizers, and media options
For readers of Storyworthy, The Storyteller's Secret, and Long Story Short, Story Power is a must-have.