We're following all official guidelines to keep ourselves healthy on the job, and as a result, shipping may be delayed.
You will receive an email from our web orders team confirming that your order has been processed.
We thank you for your support and your patience at this challenging time.
Haig's Coup: How Richard Nixon's Closest Aide Forced Him from Office (Hardcover)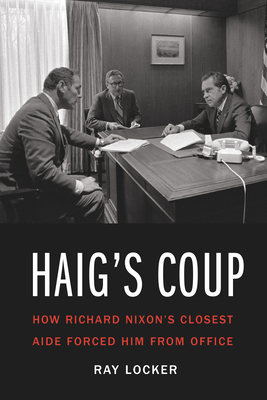 Description
---
When General Alexander M. Haig Jr. returned to the White House on May 3, 1973, he found the Nixon administration in worse shape than he had imagined. President Richard Nixon, reelected in an overwhelming landslide just six months earlier, had accepted the resignations of his top aides—the chief of staff H. R. Haldeman and the domestic policy chief John Ehrlichman—just three days earlier.

Haldeman and Ehrlichman had enforced the president's will and protected him from his rivals and his worst instincts for four years. Without them, Nixon stood alone, backed by a staff that lacked gravitas and confidence as the Watergate scandal snowballed. Nixon needed a savior, someone who would lift his fortunes while keeping his White House from blowing apart. He hoped that savior would be his deputy national security adviser, Alexander Haig, whom he appointed chief of staff. But Haig's goal was not to keep Nixon in office—it was to remove him.

In Haig's Coup, Ray Locker uses recently declassified documents to tell the true story of how Haig orchestrated Nixon's demise, resignation, and subsequent pardon. A story of intrigues, cover-ups, and treachery, this incisive history shows how Haig engineered the "soft coup" that ended our long national nightmare and brought Watergate to an end.
About the Author
---
Ray Locker is the former Washington enterprise editor at USA Today, where he directed investigative reporting out of the Washington bureau. His work as a reporter and editor has been nominated for two Pulitzer Prizes. He is the author of Nixon's Gamble: How a President's Own Secret Government Destroyed His Administration.
Praise For…
---
"A useful historical document on the seemingly evergreen topic of the Nixon White House."—Kirkus
— Kirkus
"Haig's Coup bears witness to Vice President Spiro Agnew's comment that Alexander Haig was the "de facto president" of the Watergate era. It will have a special place on the shelves of those interested in American politics and history."—Joe Taylor, Foreword Reviews
— Joe Taylor
"Just when you thought you had heard it all about the Watergate scandal, someone comes along with a new premise that dredges up everything you thought you knew and forces you to look at things through a new lens. That's exactly what Ray Locker has done with his intriguing new work, Haig's Coup: How Richard Nixon's Closest Aide Forced Him from Office."—Mike Farris, New York Journal of Books
— Mike Farris
"Just when you thought we know everything about the Watergate scandal and President Nixon, Ray Locker digs up new knowledge to complete the story."—Washington Book Review
— Washington Book Review
"Ray Locker's latest book is a bombshell! It will force us to consider what we thought we knew about the final year of Richard Nixon's presidency and the role of Alexander Haig. Even Watergate aficionados will learn plenty—and yearn for more."—Luke A. Nichter, author of The Nixon Tapes: 1973
— Luke A. Nichter
"Ray Locker has done extraordinary work here: Haig's Coup is a deep dig that will force a major reset of the perceived history of the Watergate era. I'm honored to have had an early peek at it. I learned a lot."—Ed Gray, coauthor of In Nixon's Web: A Year in the Crosshairs of Watergate
— Ed Gray
"Ray Locker is a probing newsman, an indefatigable researcher, and a talented historian. His return to the subject matter of the Nixon White House is good news to all students of the modern presidency, for there is no one better equipped to mine the remaining secrets of that tumultuous era. The truth is out there, and Ray Locker is the man to get it."—James Rosen, former Fox News chief Washington correspondent and author of The Strong Man: John Mitchell and the Secrets of Watergate
— James Rosen