We're following all official guidelines to keep ourselves healthy on the job, and as a result, shipping may be delayed.
You will receive an email from our web orders team confirming that your order has been processed.
We thank you for your support and your patience at this challenging time.
Resistance: Reclaiming an American Tradition (Hardcover)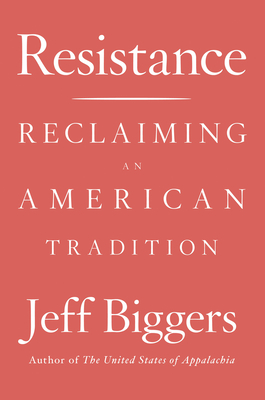 $26.00
Not On Our Shelves—Ships in 1-5 Days
Description
---
"Resist we must, resist we will—and as this volume powerfully reminds us, in so doing we are acting on the deepest American instincts." —Bill McKibben, author of Radio Free Vermont: A Fable of Resistance
Across cities, towns, and campuses, Americans are grappling with overwhelming challenges and the daily fallout from the most authoritarian White House policies in recent memory.
In an inspiring narrative history, Jeff Biggers reframes today's battles as a continuum of a vibrant American tradition. Resistance is a chronicle of the courageous resistance movements that have insured the benchmarks of our democracy—movements that served on the front lines of the American Revolution, the defense of the Constitution and Bill of Rights, the defeat of fascism during World War II, and landmark civil rights and environmental protection achievements.
Legendary historian Studs Terkel praised Biggers's The United States of Appalachia as a "how-to book" in the tradition of the American Revolution. With Resistance, Biggers opens a new window into American history and its meaning today. In a recovery of unsung heroes, including Revolutionary forefather Thomas Paine, Resistance is a provocative reconsideration of the American Revolution, bringing alive early Native American, African American, and immigrant struggles, women's rights, and environmental justice movements. With lucidity, meticulousness, and wit, Biggers unfolds one of our country's best-kept secrets: in dealing with the most challenging issues of every generation, resistance to duplicitous civil authority has defined our quintessential American story.
About the Author
---
JEFF BIGGERS is an award-winning historian, journalist, and playwright. He is the author of several books, including The United States of Appalachia, State Out of the Union, and Reckoning at Eagle Creek, winner of the Delta Prize for Literature and David Brower Award for environmental reporting. His last book, The Trials of a Scold, was long-listed for the PEN/Jacqueline Bograd Weld Award for Biography. He is the founder of the Climate Narrative Project, an arts and advocacy initiative for schools and communities.
Praise For…
---
Praise for Resistance

"[Jeff Biggers's] latest book may be his best yet . . . With fresh insights from the American Revolution to Standing Rock, Biggers argues that resistance is a quintessential American tradition and the most patriotic act we can undertake to sustain democracy." —Blue Ridge Outdoors

"Resist we must, resist we will—and as this volume powerfully reminds us, in so doing we are acting on the deepest American instincts." —Bill McKibben, author of Radio Free Vermont: A Fable of Resistance

"Reading this book, I saw history vanquish amnesia, David slay Goliath, and tenacity take down tyrants. I saw a long, unbroken chain of resistance extending back through centuries. I saw the world saved over and over. I saw heroes and declared them my ancestors. I heard stories to inspire bold action. I found traditions I want to pass on." —Sandra Steingraber, activist and author of Living Downstream and Raising Elijah

"These times are tumultuous and divisive. But Jeff Biggers, a gifted writer who approaches history as expansively as Zinn and as passionately as Galeano, finds resistance everywhere. He shows us how freedom movements—led by people of color, women, and commoners, from revolutionary-era rebels to today's loud majority—have pulled American democracy away from tyranny and toward humanity time and again. These powerful, urgent essays remind us that everywhere there is resistance there is hope." —Jeff Chang, author of We Gon' Be Alright: Notes on Race and Resegregation

"With compelling and engaging prose, Jeff Biggers lays out the case for Resistance in the age of Trump. Using Common Sense, Thomas Paine's incendiary call to overthrow the British, as the thread that binds his narrative, Biggers interweaves stories from before the American Revolution to the present to offer the reader a view of history not found in most high school textbooks. From the armed resistance of the Powhatan in 1622 to the protests of the Water Protectors against the Dakota Access Pipeline; from the speeches and essays of Maria Stewart, 'the first Black feminist-abolitionist in America,' to the words of Black Lives Matter founder Alicia Garza, he entreats us to remember that the constitution of our country is founded on the premise of 'We the People.' There are so many lessons to learn from Resistance: Reclaiming an American Tradition. Our turbulent times, Biggers shows us, have eerie and chilling parallels to the birth pangs of our nation and to the continuing struggles of 'We the People' to define and claim our voices. At this moment in history, when even the act of listening to the news can cause despair, Biggers gives us hope. In response to our darkness, he reaffirms the light that resistance offers. He shows us that the free expression of resistance, whether with the pen, our marching feet, the taking of a knee before a football game, the words to a song—to name a few—remains a cornerstone of what it means to be American." —Naomi Benaron, author of the Bellwether Prize–winning Running the Rift