Mediterrenean Cookbook for Beginners: 550 Foolproof Easy Recipes for Lifelong Health (Paperback)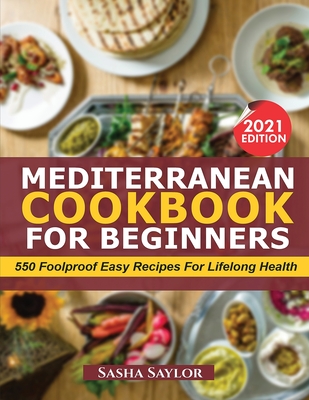 $14.99
Not On Our Shelves—Ships in 1-5 Days
Description
---
550 Foolproof Easy Recipes for Lifelong Health
Do you want to lose weight while still enjoying your favorite foods?
Do you want to burn fat and energize your body, feel great and look awesome?
Then you've come to the right place because this perfect Cookbook is filled with 550 mouth-watering, most wanted recipes you'd be a fool to skip out on. You will discover how easy it is to eat well with fresh, vibrant meals loaded with flavor-all without taxing your time in the kitchen.
The Mediterranean Cookbook for Beginners includes:
Straightforward research on why this diet could change your life
Interesting and useful information about the Mediterranean diet and lifestyle
An Intro to the Mediterranean Diet-Learn the basic principles and benefits of the Mediterranean diet.
Learn to make healthy and delicious appetizers, salads, desserts and main course meals
Cooking Instructions are written step by step and in a clear understandable manner for beginners and advanced users.
The Mediterranean diet is one of the most popular diets in the world, because it's built on whole grains and other simple (but delicious) foods that can lower blood pressure and cholesterol―a win for your heart and your waistline.
In this book we have covered the following range of topics and recipes:
Breakfast Recipes
Meat Recipes
Poultry Recipes
Fish & Seafood Recipes
Snacks and Appetizer Recipes
Desserts Recipes
Vegetable Recipes
Start enjoying the appetizing foods you and your family deserve. There are so many reasons why you'll love this Mediterranean Cookbook. Grab Your Copy Now