The Cost of Living: A Working Autobiography (Hardcover)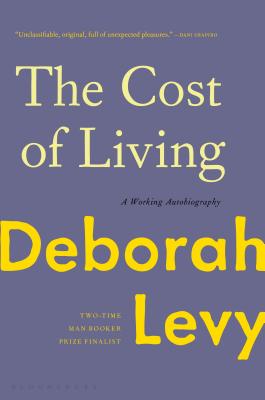 $20.00
Special Order—Subject to Availability
Description
---
The bestselling exploration of the dimensions of love, marriage, mourning, and kinship from two-time Booker Prize finalist Deborah Levy.

A New York Times Notable Book
A New York Public Library Best Nonfiction Book of 2018

What does it cost a woman to unsettle old boundaries and collapse the social hierarchies that make her a minor character in a world not arranged to her advantage?

This vibrant memoir, a portrait of contemporary womanhood in flux, is an urgent quest to find an unwritten major female character who can exist more easily in the world. Levy considers what it means to live with meaning, value, and pleasure, to seize the ultimate freedom of writing our own lives, and reflects on the work of such artists and thinkers as Simone de Beauvoir, James Baldwin, Elena Ferrante, Marguerite Duras, David Lynch, and Emily Dickinson.

The Cost of Living, longlisted for the Andrew Carnegie Medal in Nonfiction, is crucial testimony, as distinctive, witty, complex, and original as Levy's acclaimed novels.
About the Author
---
Deborah Levy trained at Dartington College of Arts before becoming a playwright. Her plays include Pax, Heresies, Clam, Call Blue Jane, Shiny Nylon, Honey Baby Middle England, Pushing the Prince into Denmark and Macbeth-False Memories. She has also written some novels and was a Fellow in Creative Arts at Trinity College, Cambridge from 1989-1991.
Praise For…
---
"[Levy] is an indelible writer . . . [an] elliptical genius . . . The Cost of Living . . . is always a pleasure to consume." - Dwight Garner, The New York Times

"An astute observer of both the mundane and the inexplicable, Levy sketches memorable details in just a few strokes . . . What makes the book stand out . . . is that Levy doesn't allow herself to linger over these details . . . She's like an expert rafter, and the river she travels is full of encounters and emotions. While another writer might give us a lengthy tour of this turbulent water, Levy doesn't slow down. There's joy in her maneuvering through the rapids, difficult though they may be. And there's joy for us in watching her." - Yiyun Lee, The New York Times Book Review

"Levy's style is fragmented, each anecdote as luminous, self-contained and hard as the pearls in the necklace she habitually wears around her throat. There's humor here and vulnerability . . . The Cost of Living is a smart, slim meditation on womanhood informed by Levy's wide reading." - Maureen Corrigan, NPR's "Fresh Air"

"The Cost of Living is unclassifiable, original, full of unexpected pleasures at every turn. Though it can be read in a flash, I suspect readers will want to savor this book slowly, for its many moments of insight, humor, wisdom, and surprise. Delivered in gorgeous, disciplined prose, Deborah Levy has crafted a bracing, searing inquiry into one woman's life that manages to tell the truth of all women's lives. I loved it." - Dani Shapiro

"Levy would never tell another woman to live the way she does, or to live any one way at all. She's too sophisticated a feminist for that. Still, she wants us . . . to know that she's happy, that she's thriving in this new, uncharted life. Her work is, too. The last sentence of the book starts, 'The writing you are reading now is made from the cost of living.' For writing this good, the cost of living is plainly the right price to pay." - NPR.org

"An eloquent manifesto for what Levy calls 'a new way of living' in the post-familial world." - The Guardian

"This is a writer who has found her voice and her subject, and both speak directly to our times . . . Levy captivates us from her wonderful first sentence . . . If you want evidence that Levy's struggles to find a life that makes sense for her have paid off, this book is Exhibit A." - The Los Angeles Times

"Extraordinary and beautiful. Ranging widely and deeply over marriage, motherhood, love, death and friendship, it is a work suffused with fierce intelligence, generous humanity and razor-sharp insights." - The Financial Times

"Powerful." - O, the Oprah Magazine

"Not only a personal reflection but a meditation on what is demanded of women." - Electric Literature, "The 15 Best Non-Fiction Books of 2018"

"Spare, lucid, profound, Levy's book is an evaluation of the work of a writer and the work of being a woman in the world." - San Francisco Chronicle

She's the most delicious narrator . . . What makes Levy remarkable, beyond the endless pleasures of her sentences, is her resourcefulness and wit. "She's ingenious, practical and dryly amused, somehow outside herself enough to find the grim, telling humor in almost any situation. Her experience is interesting to her largely for what it reveals about society, rather than the other way round . . . This is a manifesto for a risky, radical kind of life, out of your depth but swimming all the same." - The New Statesman

"Keen and moving . . . This timely look at how women are viewed (and often dismissed) by society will resonate with many readers, but particularly with those who have felt marginalized or undervalued." - Starred review, Publishers Weekly

"An elegant, candid meditation on the fraught journey to self-knowledge." - Kirkus Reviews

"A robust piece of writing about what gives humans purpose . . . It is a heady, absorbing read." - The Evening Standard

"Levy, nearing the end of her fifties, is writing her life not for her peers but for a new generation. Since we tend to speak of feminism as coming in waves, separated by generation gaps (most recently the supposed rift between millennials and baby boomers), we often focus on what divides women. What if instead we saw all women as trying to understand themselves as major characters in a society that will grant them only the status of minor ones?" - Harper's Magazine

"[A] beautiful yet damning indictment of how our culture effaces women's creative voices, both directly and insidiously." - Library Journal

"A tender, vulnerable book with a fierce strength and intelligence at its core. We sense the courage and honesty Levy required to submerge herself, breath held, fully in the past in order to find her way into a new, altered present." - Nadja Spiegelman

"Searching for something to read after devouring Women and Power? Known for her piquant novels, Deborah Levy now takes to non-fiction, with a 'working autobiography' that comprises thoughtful dissections of life as a woman." - Elle Magazine, "Here Are the 21 Books We're Most Excited to Read in 2018"

"In this evocative and insightful memoir, Levy describes her new freedom, in all its complexity and drudgery, and examines how society's expectations can define and confine women . . . Levy deftly relates the circumstances of her new life with a bewitching combination of wit and pathos." - Booklist

"How thrilling to read this vivid account by a brilliant woman leaving the marital and maternal we for scary freedom in the land of I. I loved this book!" - Honor Moore

"Beautiful, elegiac . . . The power of words to bestow life after death, and the importance of choosing what is living over what is dead, are at the heart of Levy's exquisite prose." - The Spectator

"An inherently fascinating, thoughtful and thought-provoking read from beginning to end, The Cost of Living is a compelling compilation of intensely personal stories so relevant to our turbulent times." - Midwest Book Review

"The Cost of Living refers to the price a woman has to pay for unmaking the home she no longer feels at home in. In Levy's case, this radical act of erasure inaugurates a quest for a new life that is inseparable from the writing of a new narrative." - The Irish Times

"[Levy] packs astounding insight and clarity into every passage . . . If I could, I would buy these books for every woman I know." - The Globe and Mail

"A memoir of a woman creating a new life after divorce and a collection of insightful musings on femininity, motherhood, and the craft and discipline of writing." - Lilith Magazine

"A candid and raw offering from an author whose pain is matched by her exceptional talents as a writer." - The Free Lance-Star

"Highly evocative and allusive." - Vulture

"The Cost of Living is a sleight-of-hand masterpiece, a text full of unfathomable juxtapositions and curious segues . . . A prodigious effort containing lifetimes and generations, folded together in an intricate, impossible origami." - Women's Review of Books
Coverage from NPR