We're following all official guidelines to keep ourselves healthy on the job, and as a result, shipping may be delayed.
You will receive an email from our web orders team confirming that your order has been processed.
We thank you for your support and your patience at this challenging time.
One Person, No Vote: How Voter Suppression Is Destroying Our Democracy (Hardcover)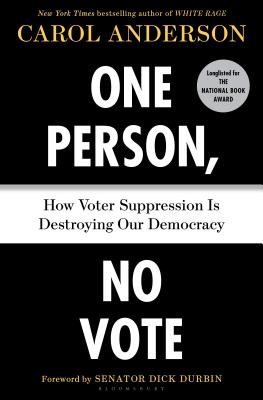 Winter 2019 Reading Group Indie Next List
---
"Carol Anderson's White Rage was a revelation, not so much because it explained things we didn't already know, but by framing the narrative as she did, it became impossible to view the history of backlash against civil rights progress as anything but systematic. To an even greater extent, to read One Person, No Vote is to understand more clearly than ever how the powerful in this country are relentlessly fighting to deprive our most vulnerable citizens of their most fundamental right."
— Frank Reiss, A Cappella Books, Atlanta, GA
Description
---
Finalist for the PEN/John Kenneth Galbraith Award for Nonfiction
Longlisted for the National Book Award in Nonfiction
Named one of the Best Books of the Year by:
Washington Post * Boston Globe * NPR* Bustle * BookRiot * New York Public Library

From the award-winning, New York Times bestselling author of White Rage, the startling--and timely--history of voter suppression in America, with a foreword by Senator Dick Durbin.

In her New York Times bestseller White Rage, Carol Anderson laid bare an insidious history of policies that have systematically impeded black progress in America, from 1865 to our combustible present. With One Person, No Vote, she chronicles a related history: the rollbacks to African American participation in the vote since the 2013 Supreme Court decision that eviscerated the Voting Rights Act of 1965. Known as the Shelby ruling, this decision effectively allowed districts with a demonstrated history of racial discrimination to change voting requirements without approval from the Department of Justice.

Focusing on the aftermath of Shelby, Anderson follows the astonishing story of government-dictated racial discrimination unfolding before our very eyes as more and more states adopt voter suppression laws. In gripping, enlightening detail she explains how voter suppression works, from photo ID requirements to gerrymandering to poll closures. And with vivid characters, she explores the resistance: the organizing, activism, and court battles to restore the basic right to vote to all Americans.
About the Author
---
Carol Anderson is the Charles Howard Candler Professor and Chair of African American Studies at Emory University. She is the author of White Rage, which won the National Book Critics Circle Award, Bourgeois Radicals, and Eyes off the Prize. She was named a Guggenheim Fellow for Constitutional Studies. She lives in Atlanta, Georgia.
Praise For…
---
"One Person, No Vote reads like a speedy sequel of sorts to her previous book, the elegant and illuminating best-seller White Rage . . . Her new book seems to have been written from a state of emergency, in an adrenaline-fueled sprint. Anderson is a stinging polemicist; her book rolls through a condensed history of voting rights and disenfranchisement, without getting bogged down in legislative minutiae. This is harder than it looks . . . This trenchant little book will push you to think not just about the vote count but about who counts, too." - Jennifer Szalai, New York Times

"Anderson has a gift for illustrating how specific historical injustices have repercussive, detrimental influence on contemporary American life. . . . If White Rage is history as even-tempered cultural criticism--it was awarded the 2017 National Book Critics Circle citation in criticism--then One Person, No Vote is history as old-fashioned, coldblooded jeremiad: a lamentation about American democracy in crisis. Throughout One Person, Anderson's tone, at turns urgent and indignant, seems to arise from the ease with which she can document abundantly--via investigative journalism, popular history and historical scholarship--the GOP's determined efforts to purge American citizens and cull and homogenize the electorate." - Los Angeles Times

"As the last two national elections demonstrated, many Americans feel angry, frustrated, and confused by a voting system that simply doesn't work; Anderson (White Rage) traces the ugly history of disenfranchisement, gerrymandering, and suppression that disable true democracy." - Boston Globe, "Best Books of the Year"

"Anderson's description of the perpetual war that blacks and now Latinos have fought to get and keep the right to vote is impeccably researched, deftly written and, sadly, prescient. . . . One Person, No Votes punches above its weight, like a lecture from a professor with superb command of language." - Minneapolis Star Tribune

"Powerful . . . Her book is a disturbing drill down into how the right to vote is being slowly destroyed with too few of us noticing." - Washington Post

"One Person, No Vote is a careful documentation of the ways in which Republican voter suppression efforts disproportionately and specifically affect minority voters. . . . Anderson's new book, along with her 2017 volume White Rage, shows how difficult it is to separate out our current political situation from the legacy of Jim Crow's racial apartheid system. The Republican war on the fairness of American elections is, by its nature, a project that targets one of the core victories of the civil rights movement." - Vox

"All of the books on this list have present-day implications, but perhaps none more so than this charged dive into voter suppression from the Chair of African American Studies at Emory University. One Person, No Vote looks at this history of this anti-democratic tactic, particularly its racist roots." - Entertainment Weekly.com

"Carol Anderson's prose is unflinching, and she wastes no time as she marches the reader from the openly racist, clear-cutting suppression tactics of the early 20th century toward the carefully veneered, ruthlessly efficient disenfranchisement campaign of the present. Whether you only think about voting on a single Tuesday in November or you're passionately engaged in the fight for the ballot, you will set this book down with the knowledge that it's all so much worse than you thought." - NPR, Best Books of the Year

"Voter suppression and disenfranchisement might be the most serious issue in American politics today. In this vastly important read, White Rage author Carol Anderson unpacks how the 2013 Supreme Court decision to roll back the Voting Rights Act of 1965 led to a storm of government-led racial discrimination and voter suppression." - Bustle, 25 Best Nonfiction Books of the Year

"Serves as a gimlet-eyed analysis of President Lyndon B. Johnson, Chief Justice John Roberts, and Jim Crow laws." - O, the Oprah Magazine, 14 Books to Read before Heading to the Polls

"Voter suppression is one of the most important threats to American democracy. You might already think this before reading Anderson's book, but if not, the copious, well-researched evidence she presents here--that shows how Republican politicians have been systematically and purposefully stripping voting abilities from black and low-income voters--is difficult to refute. Immediately relevant and deeply disturbing." - LitHub

"Looking at gerrymandering, voter ID laws, the closure of polling places, and a host of other forms of voter suppression; Carol Anderson brilliantly shows how African Americans have systematically lost their voting rights since the Voting Rights Act of 1965. Today, as voter suppression disproportionately affect Black voters and our elections, One Person, No Vote is a necessary read that explains how disguised racism continues to impact our political institutions." - Black Perspectives, "Best Black History Books of the Year"

"This whiplash-inducing chronicle of how a nation that just a few short years ago elected its first black president now finds itself in the throes of a deceitful and craven effort to rip this most essential of American rights from millions of its citizens." - Starred Review, Booklist

"It is necessary that American students understand the world in which they live so that they do not allow their voices to be suppressed." - Starred Review, School Library Connection

"A ripped-from-the-headlines book . . . Anderson is a highly praised academic who has mastered the art of gathering information and writing for a general readership, and her latest book could not be more timely." - Kirkus

"Providing a fascinating historical context for current events, an insightful book to read and consider." - Booklist

"Insightful . . . [Anderson] scrupulously details the history of racially and politically motivated disenfranchisement in the United States. . . . Anyone interested in American democracy or how equality can be not only legislated but realized will find this account illuminating and clarifying." - Publishers Weekly

"A clear, concise, and compelling exploration of racialized voter suppression from Jim Crow through today . . . This book is impeccably researched and perfectly argued. It's a must-read for anyone interested in politics, policy, and polling." - BookRiot, Best Books of the Year

"In White Rage, a New York Times best seller that won the National Book Critics Circle Award,Emory professor Anderson chronicled efforts since 1865 to block the advancement of African Americans. Here she concentrates on efforts to curtail the African American vote since the 2013 Shelby ruling gutted the Voting Rights Act of 1965. Anderson considers both consequences--e.g., photo ID requirements, poll closures--and means of redress." - Library Journal, Barbara's Nonfiction Picks for September 2018

"Well-timed . . . In a slim volume, Anderson details the outrages of Republican efforts to target largely minority voters and to limit their influence in elections. . . . Blood-boiling stories like these come rapid-fire in Anderson's narrative, which is also peppered with a brief history of voter suppression dating back to Reconstruction." - Washington Monthly

"In her impeccably timed 2016 best-seller, White Rage, historian and Emory professor Carol Anderson took readers on a jarring and illuminating journey through America's deep history of structural racism. Her new book, One Person, No Vote, connects that historical legacy with the resurgence of voter suppression that's capturing headlines in 2018, thanks not only to the ascendance of Trumpism, but the state-level depredations of voting-rights foes like Brian Kemp in Georgia, John Husted in Ohio, and Kris Kobach in Kansas." - The American Prospect

"Reading Carol Anderson's One Person, No Vote: How Voter Suppression Is Destroying Our Democracy makes it clear that [voter suppression] is alive and well. With exhaustive research and documentation and compelling narrative style, Anderson conveys how the overtly racist poll taxes, literacy tests, targeted violence and intimidation that evolved after Reconstruction to prevent African-Americans and other minorities from voting have been supplanted by ostensibly colorblind efforts to fight voter fraud and game the electoral system." - Asheville Citizen Times

"Most of us are well aware that there is something fundamentally broken about the way we vote--but not why. In One Person No Vote, Carol Anderson offers up a timely, powerfully written, and comprehensive indictment of the (relatively recent) history of brutal race-based vote suppression, and its many modern iterations--from voter ID requirements and voter purges, to fraudulent election fraud commissions and stolen elections. Along the way Anderson traces the rise and fall of the landmark Voting Rights Act and how the Supreme Court continues to blinker itself to the ways in which American elections are neither free nor fair, and how the dignity of states and white voters continues to be privileged above the franchise itself. A must-read for anyone wondering why voting is the most important issue we continue to misapprehend." - Dahlia Lithwick, Chief Legal Correspondent for SLATE and host of the Amicus podcast

"As Carol Anderson makes clear in One Person, No Vote, the right to vote is under even greater assault today. For the sake of those who fought and died for it, it is up to all of us to insist that this most basic American right be protected. Reading this well-crafted book will arm you with the facts." - Senator Dick Durbin, from the Foreword

"An amazing book . . . a reminder that democracies only work if people participate. And we need to make sure that everybody has the opportunity to participate as our constitution guarantees." - Senator Tina Smith

"Carol Anderson is one of our most incisive and cogent thinkers regarding history's fingerprints on current affairs. With One Person, No Vote she has produced a crucial examination of a critical issue: voter suppression. At a time when democracy is under siege and the worst elements of the racial past are being resurrected we can scarcely afford to avert our eyes from our most pressing challenges. Carol Anderson looks at these issues directly, unflinchingly, and offers us an invaluable insight regarding where we are, how we got here, and how we might navigate our way to safer shores." - Jelani Cobb, author of THE SUBSTANCE OF HOPE

"You pay attention to the news and regularly try to stay up-to-date on the latest political happenings, so you've definitely heard about voter suppression and how it's one of the most important issues in modern society. But for many, that's all they know. If you're looking to understand the ins and outs of what exactly is being done about voter suppression or what could be done about it, make sure you grab a copy of One Person, No Vote." - GetLiterary, 5 Books to Read if You Want to Become More Politically Engaged

"really fascinating … a good, accessible book" - BookRiot's "For Real" podcast, "Black History Month Reads"

"Shocking and disturbing . . . an upsetting — but necessary — read." - Street Roots News

"Voter suppression is no accident, and Carol Anderson is here to make that abundantly clear." - BookRiot, "8 Nonfiction Reads About Social Justice"

"An extraordinarily timely and urgent call to confront the legacy of structural racism bequeathed by white anger and resentment, and to show its continuing threat to the promise of American democracy." - Editor's Choice, New York Times Book Review on WHITE RAGE

"A sobering primer on the myriad ways African American resilience and triumph over enslavement, Jim Crow and intolerance have been relentlessly defied by the very institutions entrusted to uphold our democracy." - Washington Post on WHITE RAGE

"Some books are great, some books are essential. White Rage is the latter." - Ed Yong, The Millions on WHITE RAGE

"Lends perspective and insight for those of us who are willing to confront, study and learn from the present situation in this country." - St. Louis Dispatch on WHITE RAGE