Demi-Gods: A Novel (Hardcover)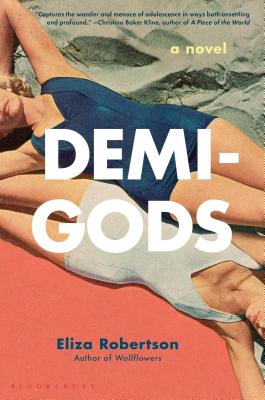 Description
---
"Atmospheric and lushly detailed, Demi-Gods captures the wonder and menace of adolescence in ways both unsettling and profound." --Christina Baker Kline, #1 New York Times bestselling author of Orphan Train and A Piece of the World

"A brutally beautiful coming-of-age story that sings with language as lovely, wild, and full of ominous longing as the young woman at its center." --Robin Wasserman, author of Girls on Fire
It is 1950, and nine-year-old Willa's sheltered childhood is about to come to an end when her mother's beau arrives with his two sons to her family's summer home in British Columbia. As Willa's older sister pairs off with the older of these boys, Willa finds herself alone in the off-kilter company of the younger, Patrick. When, one afternoon, Patrick lures Willa into a dilapidated rowboat, Willa embarks upon an increasingly damaging relationship with Patrick, one that will forever reconfigure her understanding of herself.
Demi-Gods traces the tumultuous years of Willa's coming-of-age as she is drawn further into Patrick's wicked games. Though they see each other only a handful of times, each of their encounters is increasingly charged with sexuality and degradation. When Willa finally realizes the danger of her relationship with Patrick, she desperately tries to reverse their dynamic, with devastating results.
Daring, singular, and provocative, Demi-Gods announces the arrival of one of the most exciting new voices in contemporary literature.
About the Author
---
Eliza Robertson studied creative writing at the University of Victoria and the University of East Anglia, where she received the Man Booker Scholarship and Curtis Brown Prize. In 2013, she won the Commonwealth Short Story Prize and was shortlisted for the Journey Prize and CBC Short Story Prize. Her debut collection, Wallflowers, was shortlisted for the East Anglia Book Award, Danuta Gleed Short Story Prize, and selected as a New York Times Editor's Choice. Most recently, she is the winner of the Australian Book Review Elizabeth Jolley Prize. She lives in Norwich, England.
Praise For…
---
"[A] lush, subtle novel . . . Robertson conjures a languid world, a Didion-esque tumble-dry of summery whites. The book is of a piece with André Aciman's Call Me by Your Name and other soft-core explorations of how we mess one another up, and realize it only later. Rarely have blurred lines . . . been explored with such grace." - The New York Times Book Review
"Demi-Gods reminded me favorably of novels like Deborah Levy's Swimming Home and Emma Cline's The Girls, where a hazy, swollen summer ambiance is sliced through by the razor-wire of menace and illicit arousal . . . Ms. Robertson's writing is compact, barbed and often startling . . . one of the most memorable first novels I've read in 2018." - Sam Sacks, Wall Street Journal
"Set in both British Columbia and Southern California, Robertson's searing debut novel (following the story collection Wallflowers) is a richly layered coming-of-age story exploring the thrills and dangers of a young girl named Willa and her adolescent sexual awakening . . . Robertson's deliciously enigmatic style is the perfect analogue to Willa's absorbing yet deeply haunting journey of self-discovery." - Starred review, Boxed Review, Publishers Weekly
"Atmospheric and lushly detailed, Demi-Gods captures the wonder and menace of adolescence in ways both unsettling and profound." - Christina Baker Kline, #1 New York Times bestselling author of ORPHAN TRAIN and A PIECE OF THE WORLD
"Its nod to the classics makes Demi-Gods comparable to Donna Tartt's The Secret History. As does the feeling of a new and important author arriving." - Financial Times
"Wallflowers, Robertson's 2014 collection of short stories, established her as one of [Canada]'s most-talented young writers. In her sly, sexually charged coming-of-age novel Demi-Gods, a young girl and her older step-brother fall into a peculiar, and perhaps sinister, relationship." - The Globe and Mail, "Best Books of 2017"
"Eliza Robertson has followed her 2015 collection of short stories, Wallflowers, with a debut novel that is gripping, original and richly descriptive, full of perceptive observations of sibling dynamics. It also builds tension underneath the saccharine surface of 1950s suburbia, conjuring the atmosphere of a breathlessly hot summer's day shortly before a storm breaks, amid the growing tension about where Patrick's dark games will lead. A daring page-turner to devour in one sitting. ****" - Daily Express
"Her skill as a writer is beyond question: every sentence feels crafted and she evokes America in the 1950s with such care that it seems to swim before the reader's eyes like a heat haze." - Sunday Times
"In her poetic, essential debut novel, Eliza Robertson aims an unflinching gaze at the temptation and consequences of weaponized desire. Demi-Gods is a brutally beautiful coming-of-age story that sings with language as lovely, wild, and full of ominous longing as the young woman at its center." - Robin Wasserman, author of GIRLS ON FIRE
"Demi-Gods is a resolutely sure-footed piece of writing, moving with fleetness and agility over its chosen terrain. It's the work of a writer who knows how to pace herself--when to sprint and when to hang back. Robertson--whose 2014 story collection, Wallflowers, was extravagantly praised by critics--is a landscape artist with the signal ability to re-map spacious exteriors into teeming headspaces." - Starred Review, Quill & Quire
"An eloquent and beautiful novel." - Prima, "Books of the Year"
"An exquisite, unconventional story of obsession, barely repressed desires, brimming with erotic detail, chafing with innuendo, and filled with desperately complex characters--Eliza Robertson has written a stunner of a debut novel." - Lee Henderson, author of THE ROAD NARROWS AS YOU GO
"Demi-Gods is a feat of subtlety and daring that opens with unease, builds into a dark drama, and culminates in an unforgettable scene of revenge. Robertson portrays complex relationships with breathtaking precision and compassion, revealing the human bonds that protect, falter, survive, and heal. I absolutely love this novel." - Alison MacLeod, author of ALL THE BELOVED GHOSTS
"Demi-Gods is both languid and full of menace, a slow burn that compulsively gathers heat. Robertson explores one girl's passivity and power, and one boy's monstrous impulses, with shocking honesty and language that is as precise and sensuous as a poet's. This story is frighteningly real and beautifully told." - Deborah Willis, author of THE DARK AND OTHER LOVE STORIES
"[Demi-Gods] throbs with ominous details . . . Yet, it is also a book riddled with beauty . . . Willa's beauty is described as sly. The novel, too, is sly. It will sneak under your skin." - Rowan Hisayo Buchanan, author of HARMLESS LIKE YOU
"Eliza Robertson imbues each page with an almost perverse eroticism--all actions and even inanimate objects and innocent vegetation are charged with sexual tension. In the younger brother, Patrick, she has created one of the most convincing antagonists in recent memory--my gut churned each time he appeared on the scene." - Zsuzsi Gartner, author of BETTER LIVING THROUGH PLASTIC EXPLOSIVES
"Unsettling and compulsive, Demi-Gods is a fearless novel and Eliza Robertson a daring new novelist." - John Boyne, author of THE HEART'S INVISIBLE FURIES
"Poetic, observant, tragic, gut-churning . . . Robertson's debut novel demonstrates masterful restraint, a complete and uncompromising commitment to dramatic pull. Everything is just so potent, so charged: the sexuality, the emotions, the violence. And like the deviant relationship at the novel's centre, there is something inescapable about Demi-Gods, so that by the end you feel as though you've been inches underwater, unable to surface, but desperate to." - D.W. Wilson, author of BALLISTICS