Shift Your Mind: 9 Mental Shifts to Thrive in Preparation and Performance (Paperback)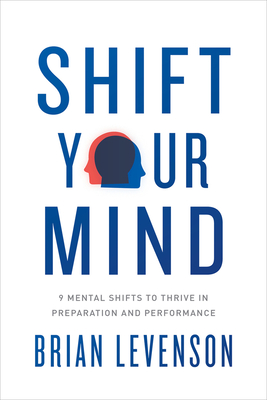 $17.99

In Stock—Click for Locations
Description
---
Greatness is a matter of timing.
Executive and mental performance coach Brian Levenson has spent years working with high performers in sports, business, and culture. And from the field to the boardroom, he noticed something surprising. Talented people were failing to reach their goals, not because they lacked the necessary skills, but because they didn't understand the mental processes that fueled them.
When it comes to high performance, talent isn't enough.
He began interviewing former CIA agents, world-class chefs, astronauts, athletes, CEOs, and more to find a solution, and soon realized that elite performers have one thing in common. They shift between complementary mindsets, one for preparing effectively and one for delivering when it counts. Only by practicing both mindsets do the best of the best—such as swimmer Diana Nyad, performer Taylor Swift, and legendary football coach Tom Coughlin—move seamlessly from drills to game-changing plays and back again.
In Shift Your Mind, you'll learn nine key mental shifts to help you think like a high performer:
humble and arrogant
work and play
perfectionistic and adaptable
analysis and instinct
experimenting and trusting process
uncomfortable and comfortable
future and present
fear and fearlessness
selfish and selfless
With exercises, examples, and actionable tips, each chapter explores the power of the shift through skills like visualization, mindfulness, and self-talk.
Make the right moves at the right time with Shift Your Mind.
About the Author
---
Brian Levenson is the founder of Strong Skills, which provides executive coaching and mental performance coaching, speaking, and consulting to elite organizations, performers, and leaders. He has been fortunate to work with CEOs, professional athletes, and with teams in the NBA, NHL, and MLS, Division 1 athletic departments, the Federal Reserve, the Department of Homeland Security, Hilton, Young Presidents Organization (YPO), and many other organizations. He also has a weekly podcast, Intentional Performers, where he interviews a diverse group of elite high performers. Brian currently lives in Bethesda, Maryland, with his wife and two kids.
Praise For…
---
"To reach our highest potential, should we rely on analysis or instinct? Focus on the future or the present? Aim for perfection or adaptability? To these questions and others, Brian Levenson offers the answer—a resounding 'Yes.' Excellence, he shows, is a paradox. It requires combining attitudes and approaches that seem incompatible but that actually form the yin and yang of greatness. Packed with compelling stories and practical takeaways, Shift Your Mind is a powerful and essential read for anyone who wants to be the best at what they do." —Daniel H. Pink, New York Times bestselling author of When and Drive

"In this book, Brian Levenson becomes your personal coach and shares the strategies he uses to help high performers take on challenge after challenge. Shift Your Mind is packed with actionable advice that you can implement immediately. It works." —Jesse Itzler, Entrepreneur, author, and keynote speaker

"Shift Your Mind shows that strong leaders and strong teams can embrace all sides of performance and preparation. Whether the moment calls for work or play, discomfort or comfort, analysis or instinct, Brian shows readers how to walk that line and change their thinking." —Jon Gordon, Bestselling author of The Energy Bus

"It doesn't really matter what you choose to excel in. If you read this book, you'll get better at it." —Cal Fussman, Journalist and host of the Big Questions podcast

"Shift Your Mind empowers readers to build confidence and elevate their game. Great players know that success is about meeting the moment, and Brian gives actionable strategies for making the right moves at the right time." —Ben Olsen, Head coach of D.C. United

"When it comes to mental skills training, the strategies in Shift Your Mind are relevant, practical, and applicable. Levenson's nine mental shifts—and the distinction between preparing and performing—will benefit anyone looking to get an edge in sports or business. This book is informative and helpful—a must-have resource!" —Alan Stein, Jr., Author of Raise Your Game

"If you, like me, are already drawn to Brian's work to help others improve, you will love the lessons in Shift Your Mind. The practical nature of both his style and his takeaways left me highlighting something on nearly every page. I've read dozens of performance improvement books—this one is a five out of five." —Don Yaeger, Leadership coach and bestselling author

"Brian Levenson did a great job explaining the importance and powerfulness of the mental side of not only sports but also, more importantly, of life. He makes it simple to understand how performance, preparation, and practice all go hand in hand." —Josh Pastner, Men's head basketball coach, Georgia Tech

"As a coach and athletic director, I know that talent is no guarantee of success. Brian breaks high performance down into simple, actionable preparation that really works. When leaders master the mental game, the whole team thrives. I highly recommend Shift Your Mind." —Tanya Vogel, Director of athletics and recreation, The George Washington University

"Shift Your Mind is a journey to become a complete player, a complete coach, or an elite organizational leader. You'll learn skills to develop the mental space to dominate daily." —Jamion Christian, Men's head basketball coach, The George Washington University


"As a father, husband, founder, investor, and leader I am always interested to learn how others drive continual performance improvements—whether they are academics or practitioners on the world's stage. I know I always have more to learn and that I can strive for better in all I do. Levenson's book is a fresh take, an analysis of dozens of well-known success stories along with many performers you've never heard of, to help you learn and do. The balanced approach to the nine shifts makes for a unique new read in a crowded market of performance improvement literature." —Kevin Lavelle, Founder, Mizzen+Main


"In general, the combination of storytelling and clear thinking is a winning one. A fast-paced, invigorating, and at times counterintuitive examination of the ingredients for success." —Kirkus Reviews