The Vanishing American Dream: A Frank Look at the Economic Realities Facing Middle- and Lower-Income Americans (Hardcover)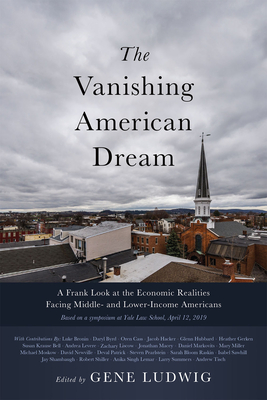 $28.00
Coming Soon—Pre-Order Now
Description
---
The American Dream is perhaps our nation's single common belief. It represents the opportunity to improve our economic standing generation upon generation, whether from poverty to comfort or beyond. From Horatio Alger to Oprah Winfrey, the Dream gives us collective hope.

The prevailing economic analysis for 2019 portrays a humming economy, one that should be able to support a path to prosperity for anyone willing to do their part. But in reality, traditional economic measures like the unemployment rate and GDP are masking a crisis for millions of lower- and middle-income families. For them, economic injustice has never been greater. They struggle to afford health care, housing, and education as they work jobs that cannot provide the chances they need to reverse this downward slide.

It's easy enough to offer prosaic explanations for the decline of opportunity: Factories closed. Globalization pushed corporations to send the jobs overseas. Racism abounds. But for those who really want to understand what's going on, those more answers only prompt more thoughtful questions.

To begin to answer those questions, Gene Ludwig invited some of the most sophisticated minds from across the political spectrum to gather in a closed setting at Yale Law School in the spring of 2019. They included policy makers, journalists, academics, and business leaders—without media or scripts. No matter their affiliation, the participants all agreed: What had once been the American dream has become an elusive myth. But how can the economy report positive growth while so many suffer? And how do we reverse their trajectory?

The Vanishing American Dream documents this rare, candid conversation and offers a forum on solutions to revive the Dream for all Americans.

With Contributions By: Sarah Bloom Raskin, Glenn Hubbard, Deval Patrick, Robert Shiller, Larry Summers, Luke Bronin, Daryl Byrd, Oren Cass, Jacob Hacker Heather Gerken, Susan Krause Bell, Andrea Levere, Zachary Liscow, Jonathan Macey, Daniel Markovits, Mary Miller, Michael Moskow, David Newville, Steven Pearlstein, Isabel Sawhill, Jay Shambaugh, Anika Singh Lemar, and Andrew Tisch.
About the Author
---
Gene Ludwig is the founder of the Promontory family of companies and Canapi LLC, the largest financial technology venture fund in the United States. He is the CEO of Promontory Financial Group, an IBM company, and chairman of Promontory MortgagePath, a technology-based, mortgage fulfillment and solutions company. He is the former vice chairman and senior control officer of Bankers Trust New York Corp, served as the United States comptroller of the currency from 1993 to 1998 under President Bill Clinton, and was a partner at Covington & Burling from 1981 to 1992. In 2019 he founded the Ludwig Institute for Shared Economic Prosperity, an organization dedicated to the economic well-being of middle- and lower-income Americans. His writing has appeared in The Financial Times, The New York Times, The Wall Street Journal, American Banker, and Time. He holds a master's degree from Oxford University and is a New College Oxford fellow. He holds a J.D. from Yale University, where he was editor of the Yale Law Journal and chairman of Yale Legislative Services. Gene lives in Washington, DC, with his wife, Dr. Carol Ludwig. They have three children and two dogs who run the household.
Praise For…
---
"Gene Ludwig's thoughtfully edited volume takes us closer to bipartisan consensus and solutions. With contributions from conservative thought leaders, academics, journalists, former Democratic governors, and others, The Vanishing American Dream outlines the problem and reaches consensus across ideological disagreements: Our economy is not working for a vast portion of the population." —Mark Warner, Senator, D-VA
"The Vanishing American Dream shines a bright light on how crucial it is that we find a way to achieve more broadly shared opportunity and hope and offers strategies that, with a modicum of political comity, should be achievable. The challenge ahead is for business and political decision makers to take this message to heart." —Jack Lew, Former Secretary of the Treasury
"Gene Ludwig's insightful new book raises timely questions that reveal inconvenient truths about an economic system that is increasingly leaving entire communities behind." —Wayne Frederick, President of Howard University
"Gene Ludwig's book is very much worth reading. The issues raised in the book are timely and important. To address the problems the book so clearly highlights, it's my view that income growth and inequality for low- and moderate-income Americans can only be solved by strong GDP growth and a dynamic market economy. The history of other programs, however well-meaning, are much less effective, if at all." —Alan Greenspan, Former Chair of the Federal Reserve of the United States
"In this book, Gene nails the inequality equation by compiling thoughtful, credentialed solutions to address our country's pervasive economic problems. Gene and his cohorts advance ideas that are pragmatic, doable, and capable of building a broad, bipartisan consensus. As Gene himself might say, 'Let's get on with it to get it done.'" —Ken Duberstein, Chief of Staff to President Ronald Reagan
"In tracing the economic decline of vibrant industrial towns, he asks the hard questions about technology, globalization, the role of government, trade, our educational system, and corporations. He and the extraordinary group of assembled experts force us, with data and insightful analysis, to confront the inequality of our system." —Mary Schapiro, Former Chair of the SEC
"In this lively and engrossing work, Ludwig presents a model of public discourse—informed, multidisciplinary, and shorn of myopic ideological commitments. An exhilarating record of intellectual engagement." —Kirkus Reviews