We're following all official guidelines to keep ourselves healthy on the job, and as a result, shipping may be delayed.
You will receive an email from our web orders team confirming that your order has been processed.
We thank you for your support and your patience at this challenging time.
Leo Durocher: Baseball's Prodigal Son (Hardcover)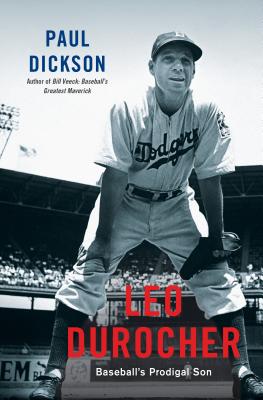 $28.00
Not On Our Shelves—Ships in 1-5 Days
Description
---
From the Casey Award–winning author of Bill Veeck: Baseball's Greatest Maverick, the first full biography of Leo Durocher, one of the most colorful and important figures in baseball history.
Leo Durocher (1906–1991) was baseball's all-time leading cocky, flamboyant, and galvanizing character, casting a shadow across several eras, from the time of Babe Ruth to the Space Age Astrodome, from Prohibition through the Vietnam War. For more than forty years, he was at the forefront of the game, with a Zelig-like ability to be present as a player or manager for some of the greatest teams and defining baseball moments of the twentieth century. A rugged, combative shortstop and a three-time All-Star, he became a legendary manager, winning three pennants and a World Series in 1954.
Durocher performed on three main stages: New York, Chicago, and Hollywood. He entered from the wings, strode to where the lights were brightest, and then took a poke at anyone who tried to upstage him. On occasion he would share the limelight, but only with Hollywood friends such as actor Danny Kaye, tough-guy and sometime roommate George Raft, Frank Sinatra, and his third wife, movie star Laraine Day.
As he did with Bill Veeck, Dickson explores Durocher's life and times through primary source materials, interviews with those who knew him, and original newspaper files. A superb addition to baseball literature, Leo Durocher offers fascinating and fresh insights into the racial integration of baseball, Durocher's unprecedented suspension from the game, the two clubhouse revolts staged against him in Brooklyn and Chicago, and Durocher's vibrant life off the field.
About the Author
---
Paul Dickson was born in 1939 in Yonkers, New York where, as a young baseball fan, he spent many hours reading about the antics and achievements of Leo Durocher in Brooklyn and New York City.
Dickson has written more than 65 non-fiction books and numerous newspaper and magazine articles. Most of these books concentrate on writing about the American language, baseball, and 20th Century American history. His first biography Bill Veeck: Baseball's Greatest Maverick, published in 2012, was awarded the Jerome Holtzman Award from the Chicago Baseball Museum, the Reader's Choice Award for the best baseball book of 2012 from the Special Libraries Association, and the Casey Award from Spitball magazine.
Dickson has also been awarded the Tony Salin Award from the Baseball Reliquary in 2011 for his role in preserving baseball history. The New York Public Library named his Dickson Baseball Dictionary one of the best reference books of 2009. In 2010, the Wall Street Journal called the third edition of the Dickson Baseball Dictionary one of the six best baseball books ever published. In 2013 he was awarded The Henry Chadwick Award by the Society for American Baseball Research which honors " … baseball's great researchers for their invaluable contributions to making baseball the game that links America's present with its past."
He lives in Garrett Park, Maryland with his wife, Nancy.
Praise For…
---
"Paul Dickson. . . does a great job of capturing the two sides of Durocher, the brilliant manager and the man who hung out with Frank Sinatra and liked to gamble. It's an excellent book and the chapters focusing on Durocher's handling of Jackie Robinson and his overall tenure with the Dodgers are must-read for Dodgers fans." - Los Angeles Times
"Strenuously researched and studded with footnotes, Paul Dickson's Leo Durocher: Baseball's Prodigal Son is an unflinching portrait of a brilliant bastard. Mr. Dickson gives the devil his due and leaves no doubt why so many people could respect Durocher's baseball genius and still hate his guts." - Wall Street Journal
"The biography by a veteran sportswriter makes a case for the cocky and combative star shortstop and legendary manager as both charming and insufferable, which sounds about right for the guy who both championed Jackie Robinson's arrival in Brooklyn and insulted him as fat and slow." - Bill Littlefield, Boston Globe
"[A] well-researched, smoothly written biography of a complex man." - Kirkus Reviews
"Paul Dickson, baseball historian and biographer (Bill Veeck: Baseball's Greatest Maverick) packs Durocher's story with enough great stories and colorful anecdotes to fill 10 normal books." - Dallas Morning News
"[A] well-researched, page-turning book. . . . Dickson's work is based on few personal interviews, but is chock full of what he does best--research--and he digs for information and puts it together in a smooth narrative. Dickson combed newspaper archives and the personal papers of Rickey, Jackie Robinson and journalist Arthur Mann to supplement his research." - Bob D'Angelo, Books & Blogs
"The book is worth reading twice just to see what you may have missed the first time . . . Enjoy it and be grateful we have Paul among us." - Tom Hoffarth, columnist, Los Angeles Daily News
"Paul Dickson's biography of the impresario Bill Veeck is one of the best baseball books of recent years. In his latest effort Dickson takes one mighty biographical swing at Leo Durocher, a colorful baseball player and manager. Durocher was a loudmouthed brawler, lady's man, fine coach, and coiner of the expression: 'nice guys finish last.'" - The Dayton Daily News
"In his new biography, Leo Durocher: Baseball's Prodigal Son, Dickson profiles a man who was constantly getting in trouble on and off the field. The controversial Durocher, known as 'Leo The Lip,' had a knack for ticking off virtually everyone he encountered . . . [he] wasn't elected into the Baseball Hall of Fame until 1994, three years after he died. Life, though, never was dull for Durocher, who was married four times and counted Hollywood stars like Frank Sinatra as close friends. It all adds up to an entertaining book about a truly unique character." - Chicago Tribune
"The racial integration of the game, which Durocher long advocated, is the book's crucial secondary story, and it is deftly handled." - Booklist
"'Leo the Lip' was confident, gaudy, and courageous. His spirit is brilliantly captured in this well-researched and thoroughly examined biography by Dickson (Bill Veeck), encompassing the personal and professional life of this legendary infielder. . . . Dickson brilliantly points out some of the player's greatest moments as well as his worst. . . . From his relationship with Branch Rickey in the racially charged 1940s to his hectic private life, Durocher's world was an enthralling on. . . . A fascinating look into the life and times of Leo Durocher, recommended for fans of the golden age of baseball." - Library Journal
"In this multilayered biography of big league bad boy Leo Durocher, [Dickson] tells three stories at once and all of them compelling reading. . . . Mr. Dickson serves up a thoroughly researched, compellingly written book of a complex character." - The Washington Times
"Dickson, who wrote one of recent years' best baseball biographies in 'Bill Veeck: Baseball's Greatest Maverick,' doesn't flinch in showing the dark side of the man known as Leo the Lip. But this complicated, richly detailed portrait also shows Durocher's better angels, as few as they were." - Milwaukee Journal Sentinel
"Durocher's life — feuding with opponents, teammates, writers, and commissioners; baiting umpires; punching mouthy fans; running with gamblers and gangsters, and the Hollywood stars who played them in the movies; burning his way through four marriages, including one to actress Larraine Day--is colorful enough for any three novels. The world of Twitter and TMZ would've loved him." - The Washington Independent Review of Books
"Dickson's biography of Leo Durocher captures the bright sunshine and optimism of baseball's spring training by focusing upon a man who loved the game, but the dark side of the sport is revealed through a man with an inferiority complex and a gambling problem who antagonized many in the nation of baseball by his desire to win at any cost; threatening the integrity of the game and leaving Durocher isolated and lonely." - History News Network
[A] splendidly written and meticulously researched book. - Daily News Gems