Nation on the Take: How Big Money Corrupts Our Democracy and What We Can Do About It (Hardcover)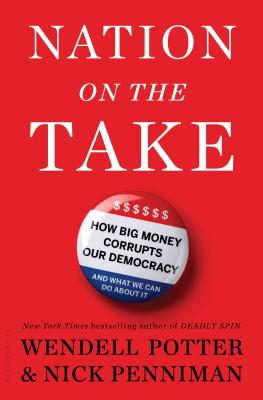 $28.00
Not On Our Shelves—Ships in 1-5 Days
Description
---
American democracy has become coin operated. Special interest groups increasingly control every level of government. The necessity of raising huge sums of campaign cash has completely changed the character of politics and policy making, determining what elected representatives stand for and how they spend their time. The marriage of great wealth and intense political influence has rendered our country unable to address our most pressing problems, from runaway government spending to climate change to the wealth gap. It also defines our daily lives: from the cars we drive to the air we breathe to the debt we owe.
In this powerful work of reportage, Wendell Potter and Nick Penniman, two vigilant watchdogs, expose legalized corruption and link it to the kitchen-table issues citizens face every day. Inciting our outrage, the authors then inspire us by introducing us to the army of reformers laying the groundwork for change, ready to be called into action. The battle plan for reform presented is practical, realistic, and concrete. No one-except some lobbyists and major political donors-likes business as usual, and this book intends to help forge a new army of reformers who are compelled by a patriotic duty to fight for a better democracy.
An impassioned, infuriating, yet ultimately hopeful call to arms, Nation on the Take lays bare the reach of moneyed interests and charts a way forward, toward the recovery of America's original promise.
About the Author
---
Wendell Potter is a Senior Fellow on Health Care for the Center for Media and Democracy. In 2009, he retired after a twenty-year career as a PR executive for health insurers to speak out on both the need for health care reform and the increasingly unchecked influence of corporate PR. He is a native of Tennessee.
Praise For…
---
"Potter and Penniman show that our corrupt political campaign finance system, which is increasingly controlled by billionaires and special interests, is an issue that should concern all Americans." - Bernie Sanders
"There could be no more important or timely book than Nation on the Take. Potter and Penniman make a compelling case that moneyed interests have seized control of the levers of power in ways we haven't seen since the Gilded Age. This is a stirring guide for how we can work together to reclaim our democracy and reunify our country." —Doris Kearns Goodwin
"Whether Republican, Democrat, or Independent, we are, first of all, Americans. This book makes a powerful case that dark money darkens our democracy, and we must rise and join as patriots to reclaim our cherished right to self-government." —Senator Alan Simpson, (R-WY, 1979–97)
"Nation on the Take is a timely and inspired book about a uniquely American problem. But Penniman and Potter don't merely draw our attention to the ways money dominates politics--they expertly show how the crisis connects with our daily lives and offer a path forward that includes people from all walks of life and all political persuasions." —Arianna Huffington
"Nation on the Take is a tour de force, a work of immense importance in the seminal debate at the core of all debates: will our nation be sold to the highest bidder or will the American people reestablish the republic our founders intended. A gripping and frightening exposé of the crisis, along with profound yet practical suggestions to repair the dysfunction, Nation on the Take should be required reading for all who care about America." —Jack Abramoff, author of CAPITAL PUNISHMENT: The Hard Truth about Washington Corruption from America's Most Notorious Lobbyist
"If you're among of the 90% of Americans who think our political system is broken, Nation on the Take is made for you. Wendell Potter & Nick Penniman have compiled a fact-packed handbook for political reform: the nitty-gritty on how billionaires' campaign contributions and corporate cash have captured both political parties and bought policies for the 1 percent; how each of us pays a price in our daily lives for the runaway political money game; and, most important, specific suggestions on how we can reform our broken system and get our democracy back on track." —Hedrick Smith, former Washington bureau chief of for the New York Times and author of WHO STOLE THE AMERICAN DREAM?
"The biggest challenge surrounding the issue of politics and money is that so many recognize it is a problem but so few can articulate why and what we can do about it. Penniman and Potter have cut through the clutter and distilled the essence of the challenge in a way that should have people marching in the streets. They make a compelling case that Americans across the political spectrum, from MoveOn Democrats to Tea Party Republicans, should care about this issue because it is an existential threat to our very democracy." —Mark McKinnon, former communications director advisor for George W. Bush
"This book is a rare achievement -- a profoundly serious analysis of our politics that is elegantly written, passionately argued, and convincingly detailed. It goes beyond the familiar 'the system is broken' rhetoric to make dramatically clear what's at stake for every citizen when government is run by a pay-as-you-go band of plutocrats. Moreover, the pieces of the solution are on the table if we find the will to put them back together. It is clear-eyed and direct about a subject that is too often wrapped in opaque policy-wonk prose." —Landon Jones, former managing editor of People Magazine
"There is no doubt that our democracy is in crisis. And when democracy is in crisis, so is our economic system. As Nation on the Take so adeptly shows, Big Money and crony capitalism go hand in hand. Any entrepreneur looking to make it today is up against a rigged game -- one that is not just rigged on behalf of billionaire political donors, but also billion-dollar corporations that want to make sure the rules benefit them at the expense of everything and everyone else. This book is a must-read for anyone who wants to de-rig the economy and restore the power of everyday citizens." —Ben Cohen, co-founder of Ben & Jerry's