We're following all official guidelines to keep ourselves healthy on the job, and as a result, shipping may be delayed.
You will receive an email from our web orders team confirming that your order has been processed.
We thank you for your support and your patience at this challenging time.
The Joy of Forest Bathing: Reconnect With Wild Places & Rejuvenate Your Life (Hardcover)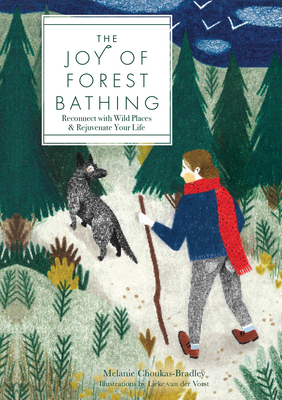 Description
---
A simple antidote to our nature-starved lives, The Joy of Forest Bathing is an enticing and comprehensive introduction to forest bathing—or Shinrin-yoku, in Japan—the meditative practice of connecting with nature and disconnecting from the distractions of daily life.

Full sensory immersion in the beauty and wonder of nature and trees can produce mental, emotional, and physical health benefits. Research has shown that forest bathing lowers blood pressure, pulse rate, and cortisol levels; improves mood; and may even boost our immunity to cancer and other diseases.

The Joy of Forest Bathing invites you to experience the benefits of this healing practice for yourself. Learn the history and background of forest bathing, followed by detailed instructions for establishing a forest bathing practice in your own adopted "wild home," encompassed in three steps:
 
1. Disengagement from your daily routine
2. Deep breathing and nature connection through a series of quiet activities or "invitations"
3. Transitioning back to your daily life
This restorative activity can be enjoyed by people of all ages and abilities: children, teenagers, and even senior citizens with limited mobility and people recovering from illness and surgery. And you don't need to travel to the Japanese alps to experience the benefits of forest bathing. All you need is a small patch of untouched (or lightly touched) nature to adopt as your "wild home."

Within, find practical tips and inspiration for forest bathing through the seasons: in the winter, when the leafless trees open up new vistas; in the spring, when you can hear the melodious serenade of song birds as they nest in the newly formed green canopy; in the summer, watching the butterflies nectaring on wildflowers; and in the autumn, when you can catch glimpses of hurried squirrels storing food for the winter.

The Joy of Forest Bathing introduces a variety of activities that can be enhanced with forest bathing elements, such as mindfulness practices, exercise, art and writing, and outdoor celebrations. Learn, too, how surrendering to the mysteries of nature can provide guidance through difficult times.

As you find nourishment in nature, you will instinctively begin to wonder how you can preserve and protect this healing resource. This guide includes suggestions for tending to your "wild home."

Illustrated throughout with enchanting artwork by Dutch illustrator Lieke van der Vorst and stunning nature photography, The Joy of Forest Bathing is the perfect guide to enhancing your life with the wondrous world of nature.
About the Author
---
Melanie Choukas-Bradley is an award-winning nature book author and Certified Nature and Forest Therapy Guide (Association of Nature and Forest Therapy Guides and Programs). Melanie leads forest bathing walks and tree tours for the Audubon Naturalist Society, the United States Botanic Garden, Smithsonian Associates,  the Rock Creek Conservancy, the Nature Conservancy, Casey Trees, Politics & Prose, the Aspen Institute and other organizations. She is the author of the award-winning book, A Year in Rock Creek Park: The Wild, Wooded Heart of Washington, DC, and City of Trees. Melanie has traveled throughout Japan, participating in forest bathing walks led by shinrin-yoku guides.
 
Originally from the Netherlands, Lieke van der Vorst is the illustrator behind Liekeland. Her work is influenced by the times she spent camping with her family every summer. Being kind to animals and the environment is an important part of her vision. She uses her illustrations to make a positive impact on the world, and to keep people honest and humble. She received a vocational education at Graphic Design SintLucas, Boxtel NL and has an art degree from Academy of Fine Arts and Design St. Joost, Breda NL. 
Praise For…
---
"Feeling stressed? Of course you are. The news in this very paper probably raises your blood pressure daily. Wait, don't stop reading. There's another solution: forest bathing. This trendy new way to chill comes from Japan, where it's known as 'shinrin-yoku' and has long been prescribed for a variety of ills — and for good reason. Studies suggest forest bathing might lower the risk for Type 2 diabetes and coronary heart disease. Best of all, it's easy to do. Just find some woodsy area and take a walk — but not a fast walk. Stop and sit at the foot of a tree, or lie down in a pile of newly fallen leaves…My favorite local naturalist, Melanie Choukas-Bradley, leads regular forest bathing walks…Check out her new book, The Joy of Forest Bathing: Reconnect With Wild Places & Rejuvenate Your Life, which offers simple, practical ways to try forest bathing on your own." 
- Sadie Dingfelder, Washington Post Express
"The practice of Shinrin-yoku—forest bathing—is a much-loved ritual in the Japanese calendar. In this guide, sweetly illustrated by Lieke van der Vorst, Choukas-Bradley explains how ditching the demands of daily life for a couple of hours and letting ourselves fully engage with the sights and sounds of nature can leave us refreshed and rejuvenated. All that's needed is a small patch of untamed wildness—the aim is not to stomp for miles, but to savour the treasures of the season slowly—and let a world of falling leaves, oaks and acorns, remind us of 'the excitement of migration and the pull of hearth and home.'"
- PressReader
"Melanie Choukas-Bradley is a nature and forest therapy guide whose new book, The Joy of Forest Bathing: Reconnect with Wild Places & Rejuvenate Your Life, is a pitch-perfect guide about how to use nature to center yourself and to help you bolster a sense of self."
- Claiborne Smith, Editor in Chief, Kirkus Reviews
"In all her years of leading traditional nature walks, [Author and Naturalist Melanie Choukas-Bradley] writes in The Joy of Forest Bathing, the moments that meant the most to her 'were the times of collective reverence, when everyone grew quiet, surrendering to the beauty and wonder of the moment. On a traditional nature walk, such moments may occur occasionally. On a forest bathing walk, however, quiet surrender to beauty and wonder is the essence of the experience.' That surrender isn't just pleasurable, it is good for people's mental and physical health, according to Choukas-Bradley. Research shows 'that forest bathing lowers your blood pressure, pulse rate, and cortisol levels; increases heart rate variability (a good thing); and improves mood,' she writes."
- April Witt, Bethesda Magazine
"Reading The Joy of Forest Bathing works a bit of magic: I feel the presence of the forest and of the peace of the wild things who live there. Melanie Choukas-Bradley has given us more than a how-to book; she also inspires us with gentle guidance and her own joy, which illuminates every page. This book is a true delight that should be on the shelf of every nature lover."
- Amos Clifford, Founder, Association of Nature and Forest Therapy Guides and Programs
"A deep, intimate dive into reconnecting with the forest, The Joy of Forest Bathing, by Melanie Choukas-Bradley truly emanates contagious joy from a lifetime of lived experience. Written by an author who has so much to share: her years as a naturalist, her training and experience as a forest therapy guide, and her talents as a writer, this book is an absolute treat. Choukas-Bradley offers new, creative, and practical ideas for exploring nature through the various seasons. Her soothing voice comes right off the page, channeling the healing powers of the forest, with breathtaking illustrations by Lieke van der Vorst that are just pure delight. Paired well with a cup of tea and a favorite outdoor spot, The Joy of Forest Bathing is medicine for the soul—doctor's orders."
 
- Suzanne Bartlett Hackenmiller, MD
"The Joy of Forest Bathing brilliantly melds Melanie Choukas-Bradley's naturalist detail and her innate and learned observational skills of all that surrounds her. I love that she can't help but share her fascination with budbreak. I love how she reminds us to engage our senses, and to unplug, unwind, and indulge. Melanie makes the act of forest bathing accessible to us all, regardless of age or ability. Bravo!"
- Robert Zarr, MD, MPH (Founder, Park Rx America)
"—This read takes you through the history of forest bathing along with practical tips, inspiration and activities."
- Christine Copelan, Parade
"Last summer, when a friend tipped us off to a new book called 'The Joy of Forest Bathing: Reconnect with Wild Places & Rejuvenate Your Life' by Melanie Choukas-Bradley, we knew that we had to get a copy. When it arrived it felt like a handcrafted gift from a dear friend. The book's cover, and interior illustrations (by Lieke van der Vorst) are absolutely charming and delightful, and they entice you to make a pot of tea, pull on a warm blanket, and dive into its pages. More importantly, the book's lovely and delicate prose will inspire you to go on your own forest bathing walk."
- Stephanie and Jeremy Puglisi, RV Family Travel Atlas Blog and Podcast