Discovery Plus: Human Body (Spiral bound)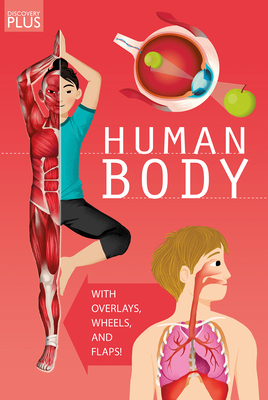 Description
---
Discover the inner workings of the most amazing machine in the world—the human body!

Take a closer look at the inner workings of the most amazing machine in the world—you! With detailed illustrations containing tabs, folds, acetates, and wheels, Discovery Plus: Human Body is a hands-on learning experience for curious children. Color photographs combined with the tactile elements of the pages help young readers understand how all the major systems of the body work together to enable us to breathe, move, and interact with the world around us. So lift the flaps, peel back the layers, and spin the wheels and discover the complexities of the human body!
About the Author
---
Anna Claybourne is an experienced children's author who has published more than 200 books on all kinds of topics, ranging from Shakespeare, space science, and Surrealism to experiments, earthquakes, and endangered species. She specializes in science and nature, literature, and arts and craft books, but also writes fiction and retellings. She lives in Edinburgh, UK, with her family and two cats. Besides writing, she likes camping, sewing, and music, and she plays the trombone. 

Mark Ruffle was born near Bristol in 1973. He graduated from the University of the West of England with a degree in graphic design in 1995. After leaving college, Mark worked as a visualizer, and then in 1997 started working for Oxford University Press as an art buyer. Mark has been freelancing since 2000 and has enjoyed working for a wide variety of clients including Aardman, producing illustrations for Flash. He has designed and illustrated web content for the BBC to accompany television programs such as Hustle, Holby City, and Bleak House. Mark works in Adobe Illustrator and is equally happy drawing illustrations for books, packaging, advertising, or animation.