Eye: How It Works (Hardcover)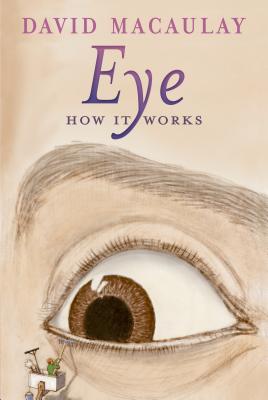 Description
---
Celebrated author-illustrator and master explainer David Macaulay brings his unique voice and style to high-interest nonfiction books for newly independent readers.
How can you see that your shirt is on inside out? How do you see the soccer ball coming right at you? How do you know which players are on your team? It all starts with light--and with the amazing human eye. With his unique blend of informative text and illustration, David Macaulay shows how the anatomy of this extraordinary organ works to capture light and send signals to our brains. Joining Castle, Jet Plane, and Toilet, here's an illuminating nonfiction story about the senses for newly independent readers.
About the Author
---
Born on December 2, 1946, David Macaulay was ten when his family moved from England to the United States. An early fascination with simple technology and a love of model making and drawing ultimately led him to study architecture at the Rhode Island School of Design. He received his degree in 1969 after spending his fifth year with RISD's European Honors Program in Rome. The next four years were spent working in interior design, teaching junior and senior high school art and tinkering with the idea of making books. The tinkering paid off. His numerous awards include the MacArthur Fellowship, the Caldecott Medal, won for his book Black and White, the Boston Globe–Horn Book Award, the Christopher Award, an American Institute of Architects Medal, the Washington Children's Book Guild Nonfiction Award, the Deutscher Jugendliteraturpreis, the Dutch Silver Slate Pencil Award, and the Bradford Washburn Award, presented by the Museum of Science in Boston to an outstanding contributor to science. He was U.S.nominee for the biennial, international Hans Christian Andersen Award in both 1984 and 2002. Macaulay currently lives with his family in Vermont.

Sheila Keenan is an established author of fiction and nonfiction, including Greetings from the 50 States; Animals in the House: A History of Pets and People; O, Say Can You See? America's Symbols, Landmarks, and Inspiring Words; and Gods, Goddesses, and Monsters: A Book of World Mythology. Her book, Dogs of War, is a graphic novel of historical fiction based on the role of dogs in the military.
Praise For…
---
"This book will be a boon to libraries seeking informational titles on this level to support the Common Core." —School Library Journal