We're following all official guidelines to keep ourselves healthy on the job, and as a result, shipping may be delayed.
You will receive an email from our web orders team confirming that your order has been processed.
We thank you for your support and your patience at this challenging time.
Extraordinary PR, Ordinary Budget: A Strategy Guide (Paperback)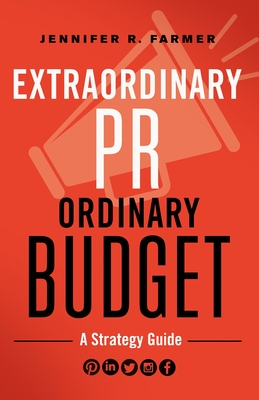 Description
---
Low Cost, High Impact!

Public relations is a make-or-break factor for all organizations, especially those that are small or mission driven. While it can be tempting to think that PR is a luxury only larger organizations can afford, PR expert Jennifer R. Farmer shows how her CCRR framework—being credible, creative, responsive, and relentless—is the silver bullet for even cash-strapped organizations.

Farmer emphasizes that effective public relations is in fact an essential component of organizational development—people need to know about you for your organization to have maximum impact. Her CCRR framework leverages tools everyone has access to, from social media to brand transparency, and requires attentiveness more than money. Farmer shows you that, no matter how modest your budget, you can build a cost-effective communications strategy that will help you break through the noise in an information-overloaded world.
About the Author
---
Jennifer R. Farmer is the managing director for communications at PICO National Network. Her current and past clients, partners, and board members have been featured in leading media outlets, including the New York Times, the Wall Street Journal, the Washington Post, MSNBC, Real Time with Bill Maher, and The Rachel Maddow Show.
Praise For…
---
"When we worked together in the Forward Together Moral Monday movement, Jennifer Farmer skillfully heard me. She allowed me to be myself while teaching me and the North Carolina NAACP staff foundational communications techniques."
—Rev. Dr. William J. Barber, President, North Carolina State Conference of the NAACP, and architect of the Forward Together Moral Movement

"Jennifer Farmer is one of the smartest and most talented communicators I know. She's passionate, knowledgeable, and relatable about her work. Plus, when we spent time together, she made sure I never ate alone."
—Ari Berman, Contributing Writer, The Nation

"Extraordinary PR, Ordinary Budget is a practical and detailed guide for building and nurturing relationships with the media, relationships that will position your organization to make a lasting impact. This book is beyond helpful; it's necessary."
—Judith Browne Dianis, Executive Director, Advancement Project National Office

"The noise in the public square is deafening. And yet, more than ever, the ability to penetrate that noise so that your story can be heard is critical to successfully contesting for power. Jennifer defines a way to think and steps to take to insure your voice is heard. This book, filled with wisdom and practicality, is delivered with humor and passion."
—Scott Reed, Executive Director, PICO National Network

"I loved this book. It is smart, practical, and filled with personal examples that underscore the author's central message: there are concrete things you can do to promote your organization with or without a large budget. Extraordinary PR, Ordinary Budget is required reading for anyone wishing to use strategic communications to make a difference."
—Celinda Lake, Principal, Lake Research Partners

"Extraordinary PR, Ordinary Budget is one of those rare books that is straightforward and poignant. It guides readers in crafting an effective and executable PR strategy—all on a budget! This is required reading from a trusted PR expert!"
—Becky Williams, President, SEIU 1199 WV/KY/OH