Blood Sport: A Journey Up the Hassayampa (Paperback)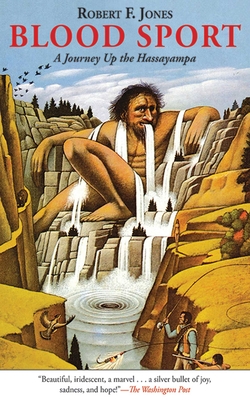 $14.95

Special Order—Subject to Availability
Description
---
Welcome to the wilderness of masculinity, where anything goes—where women throw themselves unreservedly at men and games are played to the death. This is the outdoor paradise of the Hassayampa, a legendary river whose bank is overrun with prehistoric and mystical creatures prime for hunting and whose water is said to turn honest men into liars. Here a father takes his prepubescent son on an unforgettable adventure, a rite-of-passage quest that starts as an innocent fishing trip and soon turns into a bizarre Homeric journey.
In turn comic and brutal, Blood Sport is more than just the ultimate cult outdoor novel: it's a profound reflection on violence, civilization, and what it means to be a man. Juxtaposing gunfights with philosophy, sensitivity with the surreal, Jones has created a truly unique masterpiece whose poignant metaphors, visionary prose, and imaginative story have placed him in the company of such masters as Kurt Vonnegut Jr. and Carlos Castaneda. Blood Sport's magic has continued to captivate audiences since its original publication in 1974, and it promises to remain a classic in adventure literature for years to come.
About the Author
---
Robert F. Jones was a novelist, contributing editor to Men's Journal, and writer for Sports Illustrated and Field & Stream. His books include Blood Sport, as well as multiple other works of fiction and nonfiction, among them the award-winning Jake and Upland Passage. He spent much of his life in western Vermont.