Come Out and Play: A Global Journey (Hardcover)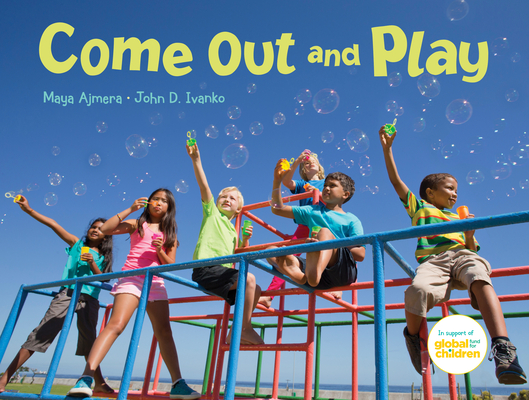 $16.99
Special Order—Subject to Availability
Description
---
Can you come out and play?

If you woke up tomorrow in Egypt with a yen for a good game of tag, you could find it. Then you could hop on your magic carpet and fly to Thailand to play Go Fish with some new friends. Later, you could seesaw until the cows come home in Ireland. Everyone loves to play and the universal appeal of games and goofing around is joyfully evident in COME OUT AND PLAY.

Brilliant, full-color photographs portray exuberant, playful kids from over 35 countries engaging in games of all kinds.

The It's a Kid's World series is dedicated to the fascinating, imaginative lives of children everywhere. Each compact little book is jammed with bright, kinetic photographs of kids from around the world playing, going to school, caring for their animals, and much more. These action-packed and engaging books are sure to inspire and educate young minds about the world around them while introducing them to kids just like themselves.
About the Author
---
Maya Ajmera is the founder of The Global Fund for Children. She is the co-author of several Global Fund for Children books, including Faith, Global Babies, Children of the U.S.A., and Children from Australia to Zimbabwe.

John D. Ivanko is an award-winning photographer and author, writer, national speaker, and conservationist.He is the co-author (with Maya Ajmera) or photo contributor to nine Global Fund for Children books. With Maya Ajmera, he's co-authored the award-winning To Be a Kid, Be My Neighbor, To Be an Artist, Back to School, Animal Friends, and Come Out and Play.
Praise For…
---
An international array of color photographs presents children engaging in many kinds of joyful activities. A child in Madagascar uses tin cans to create a toy car. An Ethiopian kid plucks a stringed instrument. Kids play foosball in Benin, chess in Spain, jacks in Guatemala, and table tennis in the Czech Republic. Two others play in the water with a large leaf and a basket in a photo captioned "Cooling off with a buddy in a river in Thailand." Children in Mexico and South Africa have fun with bubbles. The South African photo gracing the cover shows a racially diverse group of children on a colorful play structure stretching out their arms to let the bubbles fly up into the sky. Each double-page spread includes a full-bleed photo and then two or three photos on the opposite page on a solid-color background, following the format of other books supporting the Global Fund for Children by this capable author pair. Short phrases in large type explain different ideas about play, and clear captions identify each activity and country. At the end, a map identifies each country's location, and short paragraphs further explore the book's themes. Most parts of the world are included, although there could be more from Latin America and the Middle East, and the Caribbean has been neglected. An attractive pictorial offering stressing the universality of children's play the world over.
—Kirkus Reviews

Photographs depict children from around the world involved in playtime activities. Bright primary colors, as well as short sentences with a repetitive structure, will engage early readers. A variety of cultures and physical ability levels are represented in an authentic and positive manner. Children have the opportunity to see different cultures but also to identify commonalities across global communities. Captions provide further details. However, other common nonfiction elements (a table of contents and a glossary) are not included. Also, the captions lack punctuation, which could be confusing to early readers. The back pages contain photographs, additional information, and a map that highlights the featured countries. VERDICT A colorful and fun way to introduce young students to nonfiction works and the global community.
—School Library Journal