Addis Ababa Noir (Akashic Noir) (Paperback)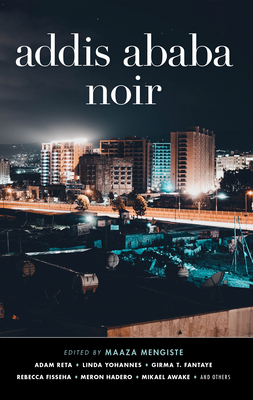 $16.95
Not On Our Shelves—Ships in 1-5 Days
Description
---
"Addis is one of Africa's--and the world's--most vibrant, dynamic scene, and the new Akashic collection displays it in all its complexity. With acclaimed writer Maaza Mengiste at the editing helm, the book brings together an exciting collection of voices exploring the city's noir side. This is a chance for readers to discover an important literary scene and to explore a city's past and present."
--CrimeReads, One of the Most Anticipated Crime Books of 2020
Included in African Book Addict's 2020 New Releases Preview
"Novelist Mengiste presents 14 stories showcasing Ethiopia's capital at its darkest...A nice variety of bad behavior. East, West: Noir's best."
--Kirkus Reviews
"Each contributor embraces day-to-day life in Ethiopia, and fills each story with a rich sense of time, place, and character. The authors reveal much about a culture unfamiliar to many American readers."
--Publishers Weekly
Akashic Books continues its award-winning series of original noir anthologies, launched in 2004 with Brooklyn Noir. Each book comprises all new stories, each one set in a distinct neighborhood or location within the respective city.
Brand-new stories by: Maaza Mengiste, Adam Reta, Mahtem Shiferraw, Linda Yohannes, Sulaiman Addonia, Meron Hadero, Mikael Awake, Lelissa Girma, Rebecca Fisseha, Solomon Hailemariam, Girma T. Fantaye, Teferi Nigussie Tafa, Hannah Giorgis, and Bewketu Seyoum.
From the introduction by Maaza Mengiste:
What marks life in Addis Ababa are the starkly different realities coexisting in one place. It's a growing city taking shape beneath the fraught weight of history, myth, and memory. It is a heady mix. It can also be disorienting, and it is in this space that the stories of Addis Ababa Noir reside...
These are not gentle stories. They cross into forbidden territories and traverse the damaged terrain of the human heart. The characters in these pages are complicated, worthy of our judgment as much as they somehow manage to elude it. The writers have each discovered their own ways to get us to lean in while forcing us to grit our teeth as we draw closer...
Despite the varied and distinct voices in these pages, no single book can contain all of the wonderful, intriguing, vexing complexities of Addis Ababa. But what you will read are stories by some of Ethiopia's most talented writers living in the country and abroad. Each of them considers the many ways that myth and truth and a country's dark edges come together to create something wholly original--and unsettling.
About the Author
---
MAAZA MENGISTE is a novelist and essayist who was born in Addis Ababa, Ethiopia. She is the recipient of fellowships from the Fulbright Scholar Program, the National Endowment for the Arts, and Creative Capital. Her debut novel, Beneath the Lion's Gaze, was selected by the Guardian as one of the ten best contemporary African books and named one of the best books of 2010 by Christian Science Monitor, Boston Globe, and other publications. Her work can be found in the New Yorker, New York Review of Books, Granta, the Guardian, the New York Times, Rolling Stone, and BBC, among other places. She was a writer on the documentary projects Girl Rising and The Invisible City: Kakuma. Her second novel, The Shadow King, was published in September 2019.