San Juan Noir (Akashic Noir) (Paperback)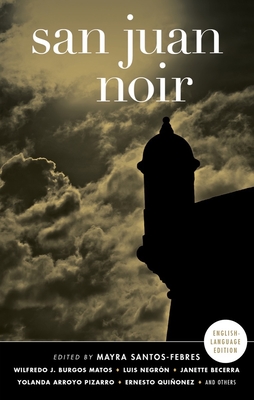 $15.95
Not On Our Shelves—Ships in 1-5 Days
Description
---
"Santos-Febres and 13 other contributors of Puerto Rican heritage take full advantage of San Juan's wide range of disparities between rich and poor, weak and powerful, tourists and residents, in this fine addition to Akashic's noir anthology series."
--Publishers Weekly
"A welcomed addition to the publisher's popular noir series, San Juan Noir has the distinction of being issued in two editions, English and Spanish, to more accurately reflect the Caribbean island's bilingual culture. Editor Santos-Febres gathers a varied collection of stories she expects will 'reveal a side of Puerto Rico otherwise obscured by the tourist trade and preconception.'"
-- NBC News Latino
"The stories within San Juan Noir stare right into the face of colonialism as they examine the gaps between the city's rich and its poor, its residents and its constant flow of tourists, its colorful exterior and its gritty underbelly. This is noir with a bite, noir that enthralls with its dark tales even as it challenges the reader--do better, do better, do better."
--Literary Hub
"From the interiors of sleazy bars or chic resort hotels, shabby apartments and in open streets and avenues with no escape, the tales of San Juan Noir trace the doomed routes of their victims and villains with an acute social and tragic awareness. These journeys keep the reader transfixed and understanding this Caribbean city in entirely new ways."
--Insights
Akashic Books continues its groundbreaking series of original noir anthologies, launched in 2004 with Brooklyn Noir. Each story is set in a distinct neighborhood or location within the city of the book.
Brand-new stories by: Wilfredo J. Burgos Matos, Ernesto Quinonez, Mayra Santos-Febres, Jose Rabelo, Luis Negron, Yolanda Arroyo Pizarro, Ana Maria Fuster Lavin, Janette Becerra, Manolo Nunez Negron, Tere Davila, Edmaris Carazo, Alejandro Alvarez Nieves, Charlie Vazquez, and Manuel A. Melendez. Translated by Will Vanderhyden.
From the introduction by Mayra Santos-Febres
"Puerto Rico is often portrayed as sandy beaches, casinos, luxury hotels, relaxation, and never-ending pleasure--a place that satisfies all senses and appetites.
Yet the city of San Juan is much more than that. The capital of the Commonwealth of Puerto Rico is the oldest Spanish settlement in all the territories and colonies of the United States. Since Puerto Rico is economically dependent on the US, the financial downturn of 2008 hit us hard. Many Puerto Ricans have left the island, looking for a better life. Crime has risen and the black market has thrived. As in many crises, art, music, and literature have also flourished. Never before has there been so much literary production. We have responded to our crisis with many stories to tell. And, especially in these times, many of those stories are noir...
I hope these stories spark your imagination, and reveal a side of Puerto Rico otherwise obscured by the tourist trade and preconceptions. Maybe it will also pique your curiosity, and you will come visit our 'pearl of the Caribbean.'"
About the Author
---
Mayra Santos-Febres has published more than twenty-five books of poetry, short stories, essay collections, and novels. Among her most import titles are Sirena Selena (2000), Our Lady of the Night (2006), and La amante de Gardel (2015). Her works have been translated into Croatian, Icelandic, French, Italian, German, and English. She currently teaches creative writing at the University of Puerto Rico, and is one of the main organizers of Festival de la Palabra.