Return to Thebes: Sequel to A God Against the Gods (Paperback)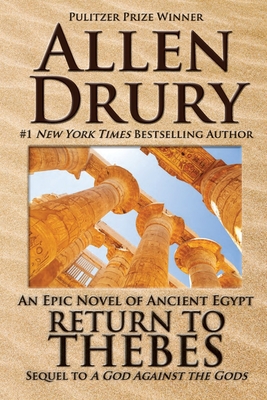 $18.99
Not On Our Shelves—Ships in 1-5 Days
(This book cannot be returned.)
Description
---
The spectacular conclusion to the Egyptian epic begun in A God Against the Gods.
After his brother's assassination, a new pharaoh must take the throne and battle the corrupt and violent priesthood.
His name is TUTANKHAMUN.
Pulitzer Prize winning author Allen Drury paints a vivid, dramatic picture of the most tumultuous times in one of the greatest empires in human history. Following the murder of Akhenaten and the beautiful Nefertiti and the religious uproar that threatens to tear Egypt apart, the pharaoh has to defy the gods in order to rule his people.
The master writer recreates ancient Egypt with all its pomp, glory, politics, and treachery, and brings legendary titans of history to life, with all their tragic-and all too human-flaws.
About the Author
---
Allen Drury is a master of political fiction, #1 New York Times bestseller and Pulitzer Prize winner, best known for the landmark novel ADVISE AND CONSENT. A 1939 graduate of Stanford University, Allen Drury wrote for and became editor of two local California newspapers. While visiting Washington, DC, in 1943 he was hired by the United Press (UPI) and covered the Senate during the latter half of World War II. After the war he wrote for other prominent publications before joining the New York Times' Washington Bureau, where he worked through most of the 1950s. After the success of ADVISE AND CONSENT, he left journalism to write full time. He published twenty novels and five works of non-fiction, many of them best sellers. WordFire Press will be reissuing the majority of his works.