Riding with George: Sportsmanship & Chivalry in the Making of America's First President (Hardcover)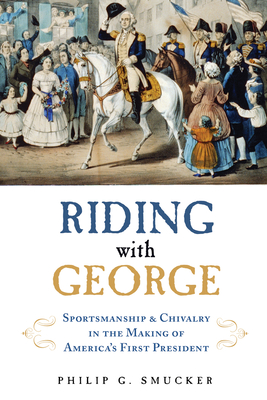 $26.99
Special Order—Subject to Availability
Description
---
Long before George Washington was a president or general, he was a sportsman. Born in 1732, he had a physique and aspirations that were tailor made for his age, one in which displays of physical prowess were essential to recognition in society. At six feet two inches and with a penchant for rambunctious horse riding, what he lacked in formal schooling he made up for in physical strength, skill, and ambition. Virginia colonial society rewarded men who were socially adept, strong, graceful, and fair at play. Washington's memorable performances on the hunting field and on the battlefield helped crystallize his contribution to our modern ideas about athleticism and chivalry, even as they also highlight the intimate ties between sports and war. Washington's actions, taken individually and seen by others as the core of his being, helped a young nation bridge the old to the new and the aristocrat to the republican.

Author Philip G. Smucker, a fifth-great-grandnephew of George Washington, uses his background as a war correspondent, sports reporter, and amateur equestrian to weave an insightful tale based upon his own travels in the footsteps and hoofprints of Washington as a surveyor, sportsman, and field commander. As often as possible, he saddles up and charges off to see what Washington's woods, byways, and battlefields look like from atop a saddle. Riding with George is "boots-in-stirrups" storytelling that unspools Washington's rise to fame in a never-before-told yarn. It shows how a young Virginian's athleticism and Old World chivalry propelled him to become a model of right action and good manners for a fledgling nation.

About the Author
---
Philip G. Smucker is a journalist, professor, research fellow at the National Library for the Study of George Washington at Mount Vernon, and the author of My Brother, My Enemy and Al Qaeda's Great Escape. He lives in Virginia.

Praise For…
---
"For all that is known about George Washington, Philip Smucker finds the untold story. Here is the muscular Washington, galloping through the Virginia woods, chasing after foxes, charging fearlessly through musket fire. Retracing his every move on horseback and exploring young George's favorite haunts, Smucker brings to life the man as he was. A delightful tale." —Tom Gjelten, NPR senior correspondent and author of Nation of Nations: A Great American Immigration Story

"Whether hurdling on horseback over stone walls, chasing wild game through the backwoods of the Shenandoah, or light-stepping a minuet in the ballroom of the Governor's Palace in Williamsburg, Philip Smucker explores the very active life of George Washington through his passion for sports and games. His fast paced narrative demonstrates the inextricable link between Washington's mastery of leadership on the battlefield and in national politics and those pursuits that tested his physical courage, social skills, and moral code of conduct. This book is a splendid introduction to the rawness and refinements of a colonial culture that shaped the man who became the icon of a new nation." —Carl Lounsbury, architectural historian, College of William and Mary

"Washington's equestrian and other athletic skills have been touched on often but briefly by historians and biographers. But now for the first time Philip Smucker collects these scattered details, reports, and vignettes, and he skillfully weaves them into an illuminating contribution to our understanding of Washington's accomplishments and greatness." —Justin Glenn, author of The Washingtons: A Family History


"An intriguing look at the first president, and an enjoyable one." —Bruce Chadwick, author of George Washington's War 


"Philip Smucker has delivered new and fascinating insights into the character of our first president. If the outside of a horse is good for the inside of a man, we owe a debt ofgratitude to Washington's horses." —Jim Wofford, Olympic equestrian and riding coach

"In Riding with George, Philip Smucker masterfully weaves a historical mosaic of vignettes about George Washington, bringing to life the character, passions, and indulgences of our first president. . . .  A must-read for aficionados who crave a detailed look into the life and exploits of Washington." – Maj. Gen. Robert D. Carlson, commanding general, Transatlantic Division, US Army Corps of Engineers


"niche historians and Washington enthusiasts should enjoy this unusual angle on America's first president.."—The Chronicle of the Horse 

"Riding With George gently confronts the marble, ossified immensity of the historical George Washington and strives to reveal the human side of America's most legendary figure. Smucker's affable tour of the haunts of our first president succeeds rather well at this daunting task." —Washington Post

"...an interesting and enjoyable look at Washington's evolution from an original perspective." —Booklist