It's My Country Too: Women's Military Stories from the American Revolution to Afghanistan (Hardcover)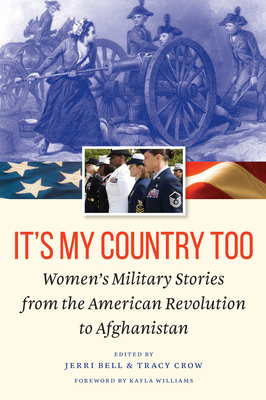 Description
---
This inspiring anthology is the first to convey the rich experiences and contributions of women in the American military in their own words—from the Revolutionary War to the present wars in the Middle East.

Serving with the Union Army during the Civil War as a nurse, scout, spy, and soldier, Harriet Tubman tells what it was like to be the first American woman to lead a raid against an enemy, freeing some 750 slaves. Busting gender stereotypes, Josette Dermody Wingo enlisted as a gunner's mate in the navy in World War II to teach sailors to fire Oerlikon anti-aircraft guns. Marine Barbara Dulinsky recalls serving under fire in Saigon during the Tet Offensive of 1968, and Brooke King describes the aftermath of her experiences outside the wire with the army in Operation Iraqi Freedom. In excerpts from their diaries, letters, oral histories, and pension depositions—as well as from published and unpublished memoirs—generations of women reveal why and how they chose to serve their country, often breaking with social norms, even at great personal peril.


 
 
About the Author
---
Jerri Bell is a retired naval officer and the managing editor of O-Dark-Thirty, the literary journal of the Veterans Writing Project. Tracy Crow is a former Marine Corps officer and the author of Eyes Right: Confessions from a Woman Marine (Nebraska, 2012) and On Point: A Guide to Writing the Military Story (Potomac Books, 2015). Kayla Williams served in the U.S. Army for five years and is the author of Love My Rifle More Than You: Young and Female in the U.S. Army and Plenty of Time When We Get Home: Love and Recovery in the Aftermath of War.
Praise For…
---
"Bell and Crow have done a service by amplifying the important voices in this collection."—Publishers Weekly
"This rich anthology of women's military stories is ripe with the history of female contributions to U.S. conflicts. . . . Enthusiastically recommended for all collections."—Mattie Cook, Library Journal starred review
"From every major U.S. war, the stories both awe and inspire."—Captain Bill Bray, Proceedings
" A useful introduction to the role of American women in war."—A. A. Nofi, Strategy Page
"Observing that "too often women were viewed as incidental," Jerri Bell, retired naval officer and managing editor of O-Dark Thirty, and Tracy Crow, a former Marine Corp Officer, endeavored through this anthology to highlight the service of women in the military conflicts in which the United States has engaged from the American Revolution to Operation Iraqi Freedom."—John R. Burch Jr., American Reference Books Annual
"This compendium of women's bravery and accomplishments is a compelling read of firsthand accounts in U.S. military conflicts. No American woman should raise her right hand and swear to 'support and defend' without these haunting voices urging her to walk the trail where few have gone. Every American history syllabus should include this book as a requirement. A true inspiration!"—Maj. Gen. Dee Ann McWilliams, U.S. Army (Ret.), president of Women in Military Service for America
 
"Jerri Bell and Tracy Crow have done a great literary service with this book—for too long, the courage and gallantry of American women on the battlefield has gone unnoticed. This is vital, superb reading."—Matt Gallagher, author of Youngblood 
"This meticulously researched book . . . allows women to speak for themselves about their experiences in American military service. It echoes with voices of many thousands of their sisters in arms."—Margaret Vining, curator of Armed Forces History for the National Museum of American History, Smithsonian Institution