Night in Tehran (Hardcover)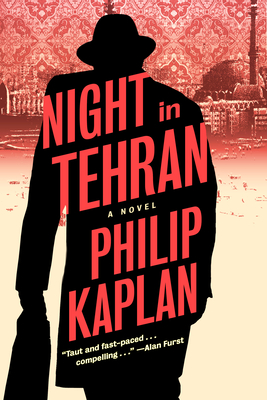 $26.99
In Stock—Click for Locations
Description
---
Based on historic events, and frighteningly relevant to today's headlines -- a taut thriller about one American diplomat's year of living dangerously in Tehran in the days leading up to the Iranian Revolution …

In the style of Alan Furst, this suspenseful thriller -- based on real events -- places an idealistic American diplomat in a turbulent, US-hating Tehran in the days leading up to the Iranian Revolution. Backed by the CIA, and trailed by a beautiful and engaging French journalist he suspects is a spy, David Weiseman's mission is to ease the Shah of Iran out of power and find the best alternative between the military, religious extremists, and the political ruling class -- many of whom are simultaneously trying to kill him.
About the Author
---
Ambassador Philip Kaplan had a 27-year career as a diplomat in the U.S. Foreign Service, including being U.S. minister, deputy chief of mission and Charge d'Affaires, to the U.S. Embassy in Manila, Philippines during the tumultuous overthrow of Ferdinand Marcos. Now retired from the State Department, Kaplan is currently a partner in Berliner, Corcoran & Rowe LLP's Washington, D.C law office, where his practice is focused on public and private international law. He lives in Washington, DC.
Praise For…
---
"This taut and fast-paced novel has a particularly compelling feature: Philip Kaplan, after a career in the State Department, brings to his book a sharp political and international sophistication--rare in thrillers, abundant in "Night in Tehran."  — Alan Furst
 
"Throw away the CIA analysis of Iran and instead pick up Ambassador Phil Kaplan's brilliant novel, which illuminates the intricacies of diplomacy, espionage, and high-stakes politics in the most dangerous country in the world with clarity and drive.  This book should be required reading for senior Pentagon and State Department leaders trying to understand the complexities of our relations in the turbulent Middle East."  — Admiral James Stavridis, 16th Supreme Allied Commander at NATO

"Kaplan dramatically shows how competing interests, foreign manipulation, and domestic brutality led to the violent overthrow of the last Persian monarch and one of the longest hostage crises on record. Not just a snapshot in time, this insightful novel is a powerful reminder of how Cold War strategies continue to reverberate through the modern global landscape." — Publishers Weekly