We're following all official guidelines to keep ourselves healthy on the job, and as a result, shipping may be delayed.
You will receive an email from our web orders team confirming that your order has been processed.
We thank you for your support and your patience at this challenging time.
Companions in Conflict: Animals in Occupied Palestine (Hardcover)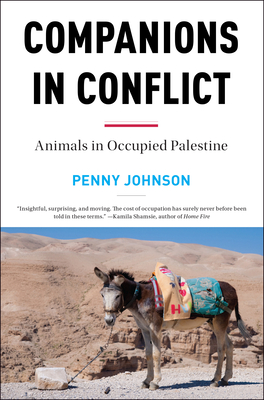 Description
---
An award-winning author explores the Israeli-Palestinian conflict through a surprising lens: the animals trying to survive in occupied hotspots

In August of 2016, Israeli police officers arrested a Palestinian donkey in the Jordan Valley. The charge? Not having the correct paperwork.

It's an image as sad (and strangely common) as it is symbolic: No creature great or small is free from the absurdities of the Occupied Territories.

Companions in Conflict is a surprising investigation into the deeply intertwined lives of the region's human and animal populations: From camel beauty contests, to a herd of "illegal" Palestinian cows hunted down by Israeli soldiers; from a hyena in a wolf pack that becomes a symbol of Middle East peace, to the tragic story of the now-taxidermied inhabitants of the West Bank's only zoo--who were frightened to death by Israeli explosive devices.

Drawing on three decades of living in the region, Penny Johnson's insightful writing reveals what these and many other animals' fates tell us about the current state of Israel and Palestine. What's more, looking forward, she introduces a new generation of environmental activists to us, who represent the region's best hope for conservation, collaboration, and justice for all creatures.
About the Author
---
Penny Johnson is a researcher and founding member of the Institute of Women's Studies at Birzeit University in Palestine. She is also an editor of Jerusalem Quarterly and is a co-editor of and contributor to two acclaimed books of essays: Shifting Sands: The Unraveling of the Old Order in the Middle East and Seeking Palestine, which won the Palestine Book Award. Born in America, she lives in Ramallah.
Praise For…
---
"Penny Johnson deepens John Berger's notion that never again will a single story be told as if it were the only one. This deeply layered book is written with unflinching grace, clarity, anger and humour. It's a fabulous gambol, performed with deceptive ease, revealing both the dancer and the dance." —Colum McCann, author of Let the Great World Spin 

"Thank you, Penny Johnson, for reminding us of one of the worst yet most overlooked evils of our political conflicts: these disputes afflict more than just humans. May this lovingly written book bring us closer to peace for all beings." —Sy Montgomery, author of How To Be A Good Creature: A Memoir in 13 Animals

"Insightful, surprising, and moving. The cost of occupation has surely never before been told in these terms." —Kamila Shamsie, author of Home Fire

"What a strange and beautiful creature this is, a Palestinian Where the Wild Things Are for adults, written with literary grace, a deep sense of history, and a love of justice. A short book with large implications, Companions in Conflict pulls off something rare: it illuminates a hidden corner of one of the world's most media-saturated landscapes." —Adam Shatz, LONDON REVIEW OF BOOKS

"Cows, donkeys, wild boars, hyenas .. some of the animals whose fortunes Penny Johnson follows in this thoughtful, always humane and often surprising book. Companions in Conflict shows the devastating effect on Palestinian natural life of the Israeli Occupation and of Israeli strategies since 1948. Widely researched, politically committed and oddly humorous, this a timely and original addition to the literature that ties what's happening in Palestine to the pressing global issues that concern us all." —Ahdaf Soueif, author of The Map of Love

"Johnson's wholistic outlook on how humans could potentially interact with, benefit from and enjoy nature, including animals, courses throughout "Companions in Conflict". She tells a story that has not been told before and which needs to be told, and which is especially timely as environmental issues gain more and more international urgency."—Sally Bland, The Jordan Times 

"The author's meticulously researched narrative, dotted with well-chosen and eloquent passages from literature and fables, is instructive and accessible... In addition to her stories about the experiences of the animals in the region, Johnson reviews the difficult issues involved in environmental and animal protection... Necessary." —KIRKUS REVIEWS

"For millennia, any bestiary worth its salt managed to not only catalogue the animals in the purview of a certain society, but to also take distant readers closer to the experience of being a human alive in a particular space. Penny Johnson's vivid, sensitive, and well-researched book does this on nearly each page, while simultaneously prompting readers everywhere to consider the lives of animals in their own corners of this rapidly changing world." —Elena Passarello, author of Animals Strike Curious Poses