Against Football: One Fan's Reluctant Manifesto (Paperback)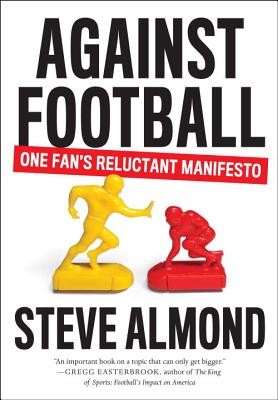 $15.95
Special Order—Subject to Availability
Description
---
A New York Times Best Seller

"Powerful...an important read." —Publishers Weekly

New York Times bestselling author Steve Almond takes on America's biggest sacred cow: football

In Against Football, Steve Almond details why, after forty years as a fan, he can no longer watch the game he still loves. Using a synthesis of memoir, reportage, and cultural critique, Almond asks a series of provocative questions:

• Does our addiction to football foster a tolerance for violence, greed, racism, and homophobia?
• What does it mean that our society has transmuted the intuitive physical joys of childhood—run, leap, throw, tackle—into a billion-dollar industry?
• How did a sport that causes brain damage become such an important emblem for our institutions of higher learning?

There has never been a book that exposes the dark underside of America's favorite game with such searing candor.
About the Author
---
STEVE ALMOND was raised in Palo Alto, California, and was a newspaper reporter in Texas and Florida before writing his first book, the story collection My Life in Heavy Metal. His second book, Candy Freak, was a New York Times bestseller, was named the Booksense Adult Nonfiction Book of the Year, and won the American Library Association Alex Award. His short fiction has been included in The Best American Short Stories and Pushcart Prize anthologies, and he writes commentary and journalism regularly for The New York Times, The Boston Globe, and The Los Angeles Times. Almond lives outside Boston with his wife and three children.
Praise For…
---
"Almond is dead serious: Supporting a spectacle that causes brain damage is immoral."
—New York Times Book Review

"[Almond] is a very good writer, and his analysis of problems confronting the game today is well done."
—Washington Post

"Almond is a shifty cornerback of a writer: rangy, sarcastic, offbeat. And every once in a while, he'll blindside you with a big hit."
—New York Times 

"An unapologetic, frontal assault on the game's role in American culture."
—Los Angeles Times 

"Steve Almond's blistering book Against Football: One Fan's Reluctant Manifesto is exactly what it advertises itself to be: an exasperated, frustrated, wide-ranging argument that the time has come to abandon football — particularly but not exclusively the NFL — as a sport built on violence, racism, economic exploitation of poor kids, corrupt dealmaking with local governments over stadiums, and a willingness to find it entertaining to watch people suffer brain damage."
—Linda Holmes, NPR

"A devastating multi-pronged attack."
—Newsweek 

"Powerful... Almond is a sympathetic narrator, his evidence incontrovertible, the moral authority firmly on his side."
—Harper's Magazine

"A passionate and elegantly written book that finally overpowered any rationalization I could come up with to justify watching more football."
—New York Times, Dealbook

"A helpful and thoughtful read that traces the criticisms of the game and the men who run it."
—Bitch Magazine

"In Steve Almond's Against Football, a book filled with 'obnoxious opinions' by the writer's own admittance—and they're not that bad—Almond makes a case for the fact that football, and the NFL specifically, is at the root of a toxic, pernicious, deadly and deadening culture in America. The book came out on August 26th, and it's taken a mere two weeks for Almond to be proven right on a national scale, in the ugliest of fashions."
—Flavorwire

"Against Football is a book that kicks and prods and fights with itself and ourselves. Almond is asking himself and us to drop the ironic distance, open our eyes, and truly look at the dangerous, vile, beautiful, fun, highly corrupted, and horrifically corrupting corporate behemoth we spend so much of our money and leisure time enraptured by, and know what it is that we are doing, and what we are supporting."
—The Millions

"Steve Almond's slim but muscular broadside slams into the wall of sanctimonious hokum served up by the NCAA, NFL, and their sycophantic sportswriter enablers."
—PopMatters, Best Nonfiction Books of 2014

"[Almond's] persuasive book dares fans to consider how long they can continue to ignore football's obvious flaws in order to preserve their weekend ritual."
—Barron's

"Almond doesn't pretend to have all the answers, but sometimes it's enough to raise the right questions at the right time. Against Football does that with disarming humor and humanity."
—National Memo

"What a perfect chance to take a breath, look around, and push the endeavor in a better direction."
—Open Letters Monthly

"This book is an important first step towards a more compassionate and educated discourse on what is, unfortunately, a game many of us are entertained by and deeply invested in."
—AskMen.com, Recommended Reading for September

"Against Football...makes a strong case that football, as presently practiced by the NFL and NCAA, should be reformed or abolished."
—Oregonian

"[Against Football] brilliantly states the case for radical change to save the sport."
—Albany Times-Union

"A book that's part journalism, part memoir, part cultural harpooning."
—Kansas City Star, FYI Book Club selection

"Against Football is clearly the pick of the litter: funny, pained, profane and sharp as a November Saturday in Ann Arbor."
—Tampa Bay Times

"Almond covers all of the arguments against football...He has sworn off the game. Will anyone join him? As he notes, boxing was once this country's top sport."
—St. Louis Post-Dispatch

"Pitch-perfect… Against Football is, at bottom, a love letter from a heartbroken fan, notable for his eloquence and clarity. It's easy to imagine that this pungent critique, with quotable passages on nearly every page, could be a much-needed game-changer. If that's overly optimistic, then we'll have to settle for a first-rate piece of journalism and a great read."
—Portland Press Herald

"Almond's book is slim but potent... Almond makes his case in a style that is conversational, self-deprecating, sharp and often laugh-out-loud funny."
—Plain Dealer

"There are no easy answers found in Almond's book—and it's an intentionally provocative argument being made, obviously—but what it surely does is get you to think about what you're doing on Sundays, what you're paying to watch and how we could possibly let children play the game."
—Las Vegas Weekly

"It's an indictment, a self-excoriation, and a provocative analysis of why so many Americans are hooked on this organized violence."
—Tampa Bay Times

"Almond makes it impossible for us to ignore our willing participation in this corrupt and destructive pastime... Against Football is one fan's inflammatory, yet indispensable, voice in the current conversation about the state of football in America."
—Brooklyn Rail

"Those who don't care for the U.S.'s favorite fall sport might be inclined to pick up Steve Almond's Against Football, looking for validation of their position. Those who love the sport may be drawn in by its subtitle, One Fan's Reluctant Manifesto, for similar reasons. Almond's power lies in his ability to speak to both readers."
—Shelf Awareness, Great Reads Now in Paper

"If you want to continue to enjoy watching football as you have in the past...you should particularly never read Steve Almond's Against Football: One Fan's Reluctant Manifesto."
—Utah Daily Herald

"As a gesture of respect to a genuine 'critical eye', I am donating my copy of Almond's remarkable book to the Cascade Public Library, so anyone can witness a moral person making a painful, moral decision."
—Cascade Pioneer (Iowa)

"As coiled and sharp as a scorpion's tail... A top-notch interrogation."
—Electric Literature

"Almond (a New York Times bestselling author and lifelong Raiders fan) writes beautifully and thought-provokingly about his decision to give up watching a game he loves because of all the bad stuff that goes along with it."
—Made Man

"Almond's book is a tremendous read, as all of his work is, but more than that, it's an important one, and one that leaves you slightly queasy the next time you set your fantasy football roster."
—Pop Culture Beast

Nonfiction November Picks, Entomology of a Bookworm

A Publishers Weekly Book of the Week

"A welcome addition to the conversation."
—Shelf Awareness

"Many fans of football will react to this book with derision, and many non-fans will consider his points self-evident: both are wrong. These are arguments that deserve to be considered deeply and grappled with, and teens—who have not yet devoted their lives or opinions to or against the sport—are in a perfect position to take Almond's  manifesto seriously."
—School Library Journal

"Those who don't care for the U.S.'s favorite fall sport might be inclined to pick up Steve Almond's Against Football, looking for validation of their position. Those who love the sport may be drawn in by its subtitle, One Fan's Reluctant Manifesto, for similar reasons. Almond's power lies in his ability to speak to both readers."
—Shelf Awareness

"A brilliantly quotable, carefully constructed, emotionally vulnerable tract sure to anger as many as it convinces, he argues against the sport's many sins even as he thoughtfully examines its hold on the souls of the faithful."
—Booklist, starred review

"A provocative, thoughtful examination of an 'astonishingly brutal' sport… Comic, compassionate and thought-provoking."
—Kirkus Reviews

"Powerful… Almond is drawing on his own experiences as a fan to illustrate how difficult the problem, which provides the book with an engaging personal angle that will lure readers who are mature enough to hear him out whether they agree with his conclusions… An important read, even if as Almond concedes, it offers more questions than answers."
—Publishers Weekly

Praise for Steve Almond's Candy Freak:

"This book will, yes, make you hungry, but it will also make you grateful-for wit, for self-effacing humor, for joyful obsessiveness, for the precise and loving use of language to crack open and celebrate our oddness-in short, for a writer as funny and big-hearted as Steve Almond."
—George Saunders

"I got a real sugar rush and cluster headache reading this bittersweet book by Steve Almond-joy, the sugar daddy himself."
—Amy Sedaris