Half the Kingdom: A Novel (Paperback)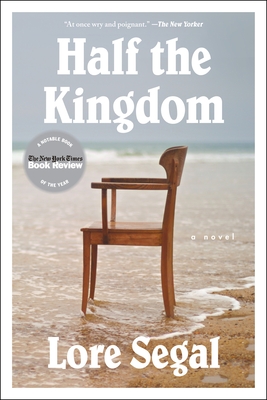 $15.95
Special Order—Subject to Availability
Description
---
New York Times Notable Book 2013

"At once wry and poingnant." —The New Yorker

"A masterwork...Both wise and deeply enjoyable." —Cynthia Ozick, author of Foreign Bodies

The renowned New Yorker writer and Pulitzer Prize finalist Lore Segal—whom The New York Times declared "closer than anyone to writing the Great American Novel"—delivers a hilarious, poignant and profoundly moving tale of living, loving and aging in America today

At Cedars of Lebanon Hospital, doctors have noticed a marked uptick in Alzheimer's patients. People who seemed perfectly lucid just a day earlier suddenly show signs of advanced dementia. Is it just normal aging, or an epidemic? Is it a coincidence, or a secret terrorist plot?

In the looking-glass world of Half the Kingdom—where terrorist paranoia and end-of-the-world hysteria mask deeper fears of mortality; where parents' and their grown children's feelings vacillate between frustration and tenderness; and where the broken medical system leads one character to quip, "Kafka wrote slice-of-life fiction"—all is familiar and yet slightly askew.

Lore Segal masterfully interweaves her characters' lives—lives that, for good or for ill, all converge in Cedar's ER—into a funny, tragic, and tender portrait of how we live today.
About the Author
---
LORE SEGAL is the author of the novels Lucinella, Other People's Houses, Her First American and the story collection Shakespeare's Kitchen, a finalist for the Pulitzer Prize. She is the recipient of an American Academy and the Institutes of Arts and Letters award, a Guggenheim Fellowship, an O'Henry Award and the Harold U. Ribalow Prize. Her work has appeared in The New Yorker, The New York Times, Harper's Magazine, The New Republic and other publications. At eighty-five years old, Segal lives and writes in New York City.
Praise For…
---
A New York Times Notable Book 2013

"The novel's comedy beats back the darkness."
—New York Times Book Review

"At once wry and poignant."
—New Yorker

"Acerbic, compassionate, astonishingly keen, very funny."
—Boston Globe

"Extremely funny."
—Wall Street Journal

"A daring novella that manages to be funny and wise."
—O, The Oprah Magazine

"One of the rare writers who combines art, eccentricity, honesty, and wisdom."
—Chicago Tribune

"Both funny and tragic, delightful and dizzingly complex."
—Los Angeles Review of Books

"Segal's narrative unfolds in snapshot scenes... The well-crafted and respectfully comedic depictions of the aged grant this book much of its mind and heart."
—Eileen Battersby's Books of the Year 2014, The Irish Times

"A dark comedy... Segal grounds her premise in the most real and authentic detail, exposing the impatience and self-interest of families, as they try to discover what is going wrong."
—The Independent (UK)

"Biting, irreverant."
—Sunday Times (UK)

"An intriguing blend of black farce and modern horror… Ripe with metaphysical resonance and, at times, Segal comes across as a bit like Beckett with a flamboyant sense of humour. Best of all is her prose style."
—Metro (UK)

"Segal continues to best the best of them with her light hand and heavy comedy."
—Globe and Mail (Canada)

"Glorious."
—Maclean's (Canada)

"Rare insight into the human character that is at once humbling and shamelessly enjoyable to behold. "
—Publishers Weekly

"A masterwork...Both wise and deeply enjoyable."
—Cynthia Ozick, author of Foreign Bodies

"No one writes like Segal — her glittering intelligence, her piercing wit, and her dazzling insights into manners and mores, are a profound pleasure. From first to last I loved this wise and irreverent novel."
—Margot Livesey, author of The Flight of Gemma Hardy

"I always feel in her work such a sense of toughness and humor…. Her writing is sad and funny, and that makes it more of both."
—Jennifer Egan, author of A Visit from the Goon Squad

"If America had anything resembling a wise elder, or cared to, it would be Lore Segal, and Half the Kingdom would be her moving, blackly-comic revelation."
—Shalom Auslander, author of Hope: A Tragedy

"I have never read such an astonishing book about old age. It's remarkable. This woman is one of the best writers I've ever had the privilege of reading."
—Ayelet Waldman, author of Love and Treasure

"Lore Segal is a marvelous and fearless writer. No subject is too hard, too absurd, or too painful for her wise peculiar and brilliant fiction."
—Lily Tuck, author of The News from Paraguay